Related Links
Recommended Links

Site News
DVD Review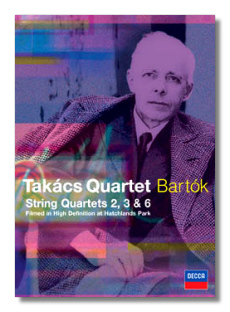 String Quartets
Quartet for Strings #2 in A minor, Op. 17
Quartet for Strings #3, Sz 85
Quartet for Strings #6, Sz 114
Takács String Quartet
Decca DVD 0743141 121m
When these works were released in CD format some eight years ago, they took the musical world by storm. Since then, they have won unending praises and a fair share of awards as well. Now Decca have regaled us with the DVD of that unforgettable occasion at Hatchlands Park when the Tackacs Quartet mesmerised all and sundry with the intensity of their music-making.
Bartok's music is never easy to grasp, but the formidable challenge it poses is worth taking on as by time the listener is able to penetrate into the mind and soul of one of the 20th Century's most tortured artistic spirits. His chamber works in particular reveal all the suffering of the man and seeing them performned as well, is indeed a compelling experience.
The Tackacs play like men possessed making every note sound disturbingly agitated and deeply moving. You just cannot fail to be drawn in by the irresistible sense of a once in a lifetime occasion, which as time wears on, becomes even more legendary. The issue is further enhanced by an introduction and discussion on each of the works by the players themselves. Excellent sound and vision complete, at least to me, a monumental visual document that should be snapped up without hesitation.
Copyright © 2007, Gerald Fenech