DVD Review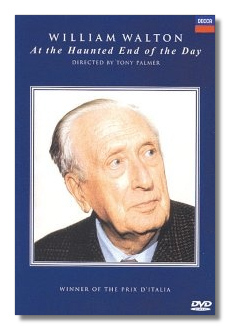 At the Haunted End of Day
Julian Bream, guitar
Iona Brown, violin
Yvonne Kenny, soprano
Ralph Kirshbaum, cello
Yehudi Menuhin, viola
Simon Preston, organ
Simon Rattle, conductor
John-Shirley Quirk, baritone
Directed by Tony Palmer
Isolde Films Ltd/Decca Music Group 074150-9 DVD (All Region compatible) 99m ADD
William Walton's life makes for an interesting visual document and Tony Palmer's unforgettably nostalgic view of it is superbly remastered for us here to celebrate the centenary year. It has long been a classic document both for the deep sense of foreboding and darkness that runs through the filming but also for its unquestionable sense of love and devotion that was so important to the composer's life as a whole.
'Childhood' is a moving peroration, here we are brought face to face with the stark realities of life in grimy Oldham were Walton's talents for singing were immediately spotted. His journey to Christchurch is also simple yet effective and the various reminiscences by the man himself add so many colours to these early years. 'Oxford' is next and here we are treated to some lovely footage of the octogenarian composer listening to the young charges of the Oxford Choir singing 'Wheatley'.
The Sitwells played an indispensable part in Walton's life and the chapter devoted to them is also very colourful with the distinguished Sascha Sitwell providing the necessary details and an earlier taped interview with Edith Sitwell on the famous 'Façade'. The Italian connection is also explored with some beautiful shots of Amalfi whilst the return to London continues with the creation of 'Belshazzar's Feast' (bitingly conducted by Simon Rattle) and the 'Crown Imperial' march, complete with authentic Coronation footage from 1937. The excerpts from Walton's famous war music are also well combined with the composer providing some thoughtful and witty cracks to complement things!
We then come to probably some of the most poignant moments of the film with the First Symphony and the composer's marriage to Susanna, an Argentine beauty who was definitely heaven sent. I agree perfectly with Tony Palmer's insert notes where he says that Rattle's white hot performances have never been surpassed, the finale of the symphony's first movement is utterly savage.
This is beautifully complemented with Julian Bream's guitar playing and the first magical views of stupendous Ischia, an island paradise, lush with greenery and awesome views that truly transcend reality.
The film then tends to gather momentum with the Henry V scenes and a delightfully perky interview with Lawrence Olivier but it is the Lady Alice Wimbourne scene which really brings tears to the eyes. Walton was still evidently besotted by this 'beautiful' woman who was also very rich and this part of his life is complemented by the equally beautiful Violin Concerto which permeates the chapter.
Finally we have 'Troilus and Cressida' and the haunting Cello Concerto. Interspersed between some touching moments of Walton and his wife rambling about in their garden paradise, Palmer asks Walton what he is looking forward to. He replies, 'Oh well, death I suppose, that's what I'm looking forward to'. And those are the last words as the film turns to a beautiful sunset and fades to black. At the haunted end of day is a masterpiece of portraying what is best left unsaid.
Copyright © 2003, Gerald Fenech