Related Links
Recommended Links

Site News
CD Review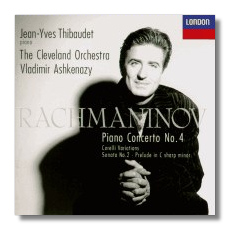 Piano Concerto #4, in G minor, Op. 40
Corelli Variations, Op. 42
Piano Sonata #2 in B Flat minor, Op. 36
Prélude in C Sharp minor, Op. 3 #2
Jean-Yves Thibaudet, piano
The Cleveland Orchestra/Vladimir Ashkenazy
London 458930-2 DDD 67:54
Without doubt the Fourth is the black sheep of Rachmaninoff's piano concertos. To some extent, its general neglect is understandable: the second movement's main theme sounds embarrassingly similar to Three Blind Mice, and the ensuing movement comes across, at least initially, as lacking memorable music. The whole of the work, in fact, doesn't register with many listeners after a hearing or two, unlike its three younger siblings and the later Paganini Rhapsody. Yet the Fourth isn't as emotionally cool and melodically sterile as its detractors assert. Yes, there is an aloofness, a feeling at times that the composer is holding a bit too tightly onto the emotional reins. But there's also more subtlety here than you find in the somewhat immature First, less corny drama than you get in the conservative Second, and a better musical structure than offered by the often rambling Third. In the end, it's seasoned, if slightly arid, Rachmaninoff that will always turn away more than a few ears.
Thibaudet makes just about the best case possible for this work, capturing that often elusive Rachmaninoffian romanticism, with its yearning nostalgia and Russian gloom, in pianism that neither overpowers nor underplays the music and always maintains a deft touch and technical finesse. Michelangeli and Wild have recorded this concerto with success, of course, but neither of their efforts is recent or therefore in up-to-date sonics. This issue completes Thibaudet's cycle of the Rachmaninoff concertos (which also included the Rhapsody), a series that has garnered high praise, not least because of the splendid work of Vladmir Ashkenazy and the Cleveland Orchestra. Excellent sound.
Thibaudet renders the Corelli Variations and Second Sonata with the same pianistic panache. In the Sonata, Cliburn has scored a decided success with a recording of the complete work (Thibaudet plays the shorter, revised version). But Cliburn's 1960 live Moscow performance was captured in atypically poor sound by RCA, even for its time. Thibaudet rounds out this issue of mostly unpopular Rachmaninoff works with a stunning performance of the most popular piece in the composer's canon, the C Sharp minor Prélude. London offers excellent sound in the solo works, too, and good notes. A splendid issue for those interested in the more adventurous side of Rachmaninoff.
Copyright © 1998, Robert Cummings