Related Links
Recommended Links

Site News
CD Review
The Phase Four Phenomenon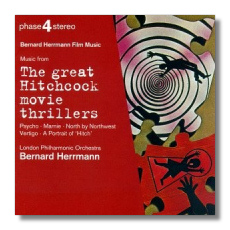 Music from The Great Hitchcock Movie Thrillers
Psycho
Marnie
North by Northwest
Vertigo
A Portrait of Hitch (from The Trouble with Harry)
London Philharmonic Orchestra/Bernard Hermann
London "Phase Four" 443895-2

Gershwin Concert
Girl Crazy
Oh, Kay!
Funny Face
Let 'em Eat Cake
Of Thee I Sing [Overtures]
Of Thee I Sing: Wintergreen for President
3 Préludes
Rhapsody #2 for Piano & Orchestra
Ralph Votapek, piano
Boston Pops Orchestra/Arthur Fiedler
London "Phase Four" 443900-2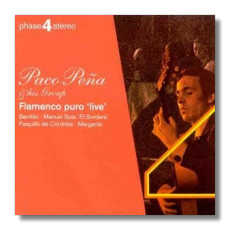 Flamenco puro 'Live'
Llanto gitano
La iedra escrita
Giralda de Sevilla
De Badajoz a Madrid
Agua, vienta, nieve y frio
Ay mi romera
El bordon y la prima
Feria de Sevilla
Fiesta de traina y jerez
Paco Peña, guitar
London "Phase Four" 443902-2
This is the first of two reviews of the initial release of Phase Four issues from London/Decca. The Phase Four series began in 1964 and was Decca/London's answer, I guess, to RCA's Living Stereo and Mercury's Living Presence. It incorporated an extensive use of panels, etc. to produce a stereo effect that was a dream for Leopold Stokowski. I have already reviewed the Stokowski releases in an essay specifically about those. The bottom line is that Phase Four offered a rich, deep bass sound that Stokowski loved and an effect that some people found gimmicky.
Many of these releases included Bernard Hermann (who worked with Stokowski in the 40s) Stanley Black and others. It has been said that Hitchcock and Hermann did not get along well but that neither did as well as they had after they terminated their relationship. What we have here is a compilation of the most famous of the Hermann/Hitchcock film scores. As you might expect, the performances are authoritative and the sound here is excellent. There are those who might carp about the spare room left on the CD, but anyone wanting these performances on compact disc will love this issue. As with all these Phase Four discs, the sound is spectacular. They are as warm and full as the LPs and will provide you with a realistic aural picture of the originals minus the inherent LP reservations.
The Gershwin disc is a delight. I had not known that Arthur Fiedler recorded for anyone other than RCA but then I am not as familiar with his career as with Stokowski's. I can recall watching, as a kid, the Boston Pops concerts and enjoying everything Fiedler brought out of this orchestra. One of my favorite recollections is the Bi-Centennial concert, which I watched on TV. I recall that Fiedler sat on a stool and at one point the audience would not quiet down enough. Fiedler sat at his stool, arms crossed, glaring until the audience noise subsided. I was disappointed, years later, when I found out that the sweet looking old man hated kids and people in general. That aside, this disc will please anyone fond of Fiedler or Gershwin. Everyone seems to be having a good time.
Now for the Flamenco disc. If you love this kind of music my guess is you will want this disc. I am not as familiar with Flamenco as with other kinds of music. It recalls, to my ears, some of the language of the Moors. Still, as little of this goes a long way for me and I guess I must admit this in being honest with you about the merits of the disc. This CD is also, by the way, from a live performance and you can hear the audience applaud at the end of each selection as well as at the open of the concert. Sound is fine.
Copyright © 1995, Robert Stumpf II