Related Links
Recommended Links

Site News
DVD Review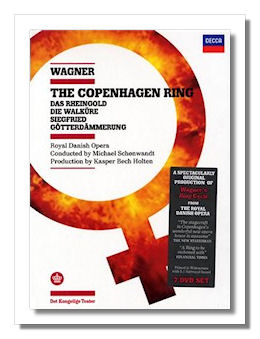 The Copenhagen Ring
Das Rheingold
Iréne Theorin (soprano)
Hanne Fischer (mezzo soprano)
Ylva Kihlberg (soprano)
Johnny Van Hal (tenor)
Hans Lawaetz (bass)
Stephen Milling (bass)
Sten Byriel (Bass baritone)
Michael Kristensen (tenor)
Randi Stene (mezzo soprano)
Johan Reuter (baritone)
Bengt-Ola Morgny (tenor)
Christian Christiansen (bass)
Anne Margrethe Dahl (soprano)
Susanne Resmark (alto)
Djina Mai-Mai (soprano)
Die Walküre
Elisabeth Halling (alto)
Elisabeth Jansson (alto)
Anna Rydberg (mezzo soprano)
Carolina Sandgren (soprano)
Ylva Kihlberg (soprano)
Gitta-Maria Sjöberg (soprano)
James Johnson (bass)
Iréne Theorin (soprano)
Stephen Milling (bass)
Randi Stene (mezzo soprano)
Stig Andersen (tenor)
Emma Vetter (soprano)
Hanne Fischer (mezzo soprano)
Ulla Kudsk Jensen (alto)
Siegfried
Stig Andersen (tenor)
Sten Byriel (Bass baritone)
Bengt-Ola Morgny (tenor)
Christian Christiansen (bass)
Susanne Resmark (alto)
Iréne Theorin (soprano)
James Johnson (bass)
Gisela Stille (soprano)
Götterdämmerung
Anne Margrethe Dahl (soprano)
Peter Klaveness (bass)
Hanne Fischer (mezzo soprano)
Anette Bod (mezzo soprano)
Guido Paëvatalu (baritone)
Stig Andersen (tenor)
Sten Byriel (Bass baritone)
Ylva Kihlberg (soprano)
Iréne Theorin (soprano)
Susanne Resmark (alto)
Djina Mai-Mai (soprano)
Elisabeth Meyer-Topsoe (soprano)
Ulla Kudsk Jensen (alto)
Chorus of the Royal Danish Opera
Royal Danish Orchestra/Michael Schønwandt
Decca 0743264 7DVDs 920m DTS Dolby Digital Full Screen
Although Wagner's monumental "Ring Cycle" is an ongoing event both on stage and to a slightly lesser degree, in the studio, the number of home video issues was until of late, on the lean side. The last 18 months have seen a flourish in this respect, culminating in this absolutely superb version from Copenhagen recorded at the Royal Danish Opera in May 2006.
What makes this version so inventive is producer Vasper Bech Holten's concoction of making Brunnhilde the central figure of the drama. The four operas are each set in a pivotal decade of the last century, so her story also becomes a history of modern times, with all the ideologies and conflicts which split them to bits. A cast of outstanding singers coupled with Schønwandt's inspired conducting further enhance the quality of this production which to my mind is now a front runner in this exacting and highly specialized field.
The astounding technical facilities of the new Copenhagen Opera House are a wonder to behold, and the viewer will undoubtedly experience a breathless and amazing spectacle of stage ingenuity. The perfect ingredients to make this a staggering Wagnerian event, and a landmark project in the history of recent "Ring" stagings are all there. The bonus feature highlighting Queen Margrethe II of Denmark meeting Bech Holten is also interesting.
Copyright © 2008 by Gerald Fenech