Related Links
Recommended Links

Site News
CD Review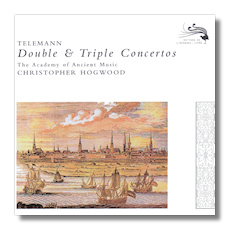 Double & Triple Concertos
Concerto in D Major for 3 Trumpets
Quadro in B Flat Major
Concerto in E minor for Recorder & Flute
Concerto polonois in G Major
Concerto in E Major for Flute, Oboe d'amore & Viola d'amore
Friedmann Immer, Michael Laird, Iain Wilson: natural trumpets
John Turner, recorder
Stephen Preston, flute
Clare Shanks, oboe d'amore
Monica Huggett, viola d'amore
The Academy of Ancient Music/Christopher Hogwood
Decca L'Oiseau-Lyre 478002-2 54m DDD
This disc again brings back fond memories of my youth when I first discovered baroque music in the form of this LP featuring music by Telemann. Of special fascination was the playing of the Academy of Ancient Music conducted by Christopher Hogwood with those incredible sounds by the period instruments, a complete novelty for me at the time.
Although this reissue has lost its extensively detailed liner notes, it is very welcome as the sound of those natural trumpets and horns backed by the Academy of Ancient Music in top form has never been bettered, at least in my opinion. Each work is a miracle of unforced motion especially the lovely Concerto for 3 trumpets which has Immer, Wilson and Laird quite inspired.
Although the disc lasts just over 53 minutes, it's the quality that counts and not the quantity after all. With excellent notes by baroque music expert Nicholas Anderson, this issue is truly a must for any self respecting lover of the genre.
Copyright © 2008 by Gerald Fenech