Related Links
Recommended Links

Site News
CD Review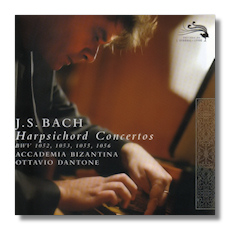 Harpsichord Concertos
Concerto for Harpsichord in D minor, BWV 1052
Concerto for Harpsichord in E Major, BWV 1054
Concerto for Harpsichord in A Major, BWV 1055
Concerto for Harpsichord in F minor, BWV 1056
Ottavio Dantone, harpsichord
Accademia Bizantina
L'Oiseau-Lyre 475935-5 65m DDD
This beautifully recorded disc is surely one of the best recommendations for Bach's keyboard concertos. We already have some fine recordings of Ottavio Dantone and his Accademia Bizantina and this one is certainly no exception with proper attention being given to rhythms and tempi and just the right balance between solo instrument and orchestra.
The concertos are rather similar works where Bach lets loose his imagination and technical facility for the solo instrument. As expected Dantone and the Accademia perform with flawless interpretative quality, especially in the concluding movements where Bach throws quite a lot of difficulty into the notes.
L'Oiseau-Lyre's production is first class, as one may expect and there are also excellently detailed notes by Simon Heighes who provides important insight into the works recorded. This is a top notch issue, one which is deserving of every recommendation.
Copyright © 2008 by Gerald Fenech