Related Links
Recommended Links

Site News
CD Review
Les Élémens du Baroque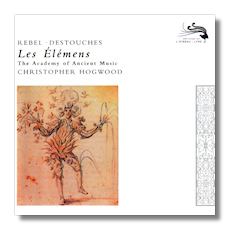 Jean-Féry Rebel: Les Élémens - simphonie nouvelle
André Cardinal Destouches: Les Élémens - opera-ballet
The Academy of Ancient Music/Christopher Hogwood
L'Oiseau-Lyre 4759100 44m ADD
You only have to listen to the utterly strange opening of this CD to recognize that it is going to be something special. I was unaware of the music of Rebel and Destouches before receiving this CD for review but was rather well acquainted with Christopher Hogwood's splendid work for L'Oiseau-Lyre and it is only with a warm welcome that I can welcome these stunning recordings back into the fold.
At 44 minutes, this is a straight transcription from the LP but the budget price on offer will certainly prove to be attractive for the discerning collector. Both suites are imbued with daring orchestral tricks and touches and it goes without saying that Hogwood and the Academy of Ancient Music give their all to bring that right sort of 'feel' to this exceptional music.
Lindsay Kemp's notes reveal Hogwood's regret at not having recorded more of this type of French music. On this evidence, we are certainly much the poorer as collectors but this disc is certainly enough to thrill each and every one of you out there who enjoy that occasional discovery. And if the timing is rather short, there's always the repeat button to start the thrill all over again! Back I go to the description of chaos or 'Le cahos' as Rebel so uncannily describes it.
Copyright © 2008, Gerald Fenech