CD Review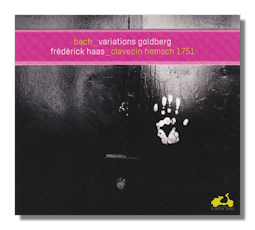 Goldberg Variations
Frédérick Haas, harpsichord
La Dolce Volta LDV01
Two aspects of this new performance of the Goldberg Variations by French harpsichordist, Frédérick Haas (born 1969) stand out. First the beauty, sonority, clarity, gentle penetration and rounded tone of the lovely harpsichord by Henri Hemsch dating from 1751. Secondly the thoughtful, introspective, intellectually confident yet sensitively expressive – and equally penetrating approach taken by Haas. These two qualities alone should make this a Goldbergs to consider seriously among the over 200 recordings currently available. They do. But there are reasons.
Haas has reflection and virtuosity on his side. For the former, listen in particular to the early variations and, say, the Canone alla Quinta [tr.16]. For the latter, listen to the accomplished runs of Variation 14 [tr.15]: never mechanical, yet completely controlled. In each case Haas has poise, conviction, gentleness blended with clarity and purpose. Individual notes are not caressed from the harpsichord. But they are not pressed or pecked either. Haas has a gift of "extracting" them, "eliciting" them from an instrument contemporary with Bach. The quiet inevitability of individual notes (somewhat redolent of the way Gould played individual notes) makes for pleasing and comforting phrasing. This combines into a logic, yet a vivacious logic, for each whole variation.
The challenge for many a player of the Goldbergs is not to make variation after variation seem a chore, something with little sequential life, a series of "numbers" to be articulated. This is far from the case with Haas: in the first place his sensitivity to tone and texture give him ample scope for cross referencing timbres and palettes. The colors of the variations interlock and contrast one with another in a non-mathematical way. But in a way that both truly suggests variation and variety – and is conducive to our profound understanding of Bach's conception of the Goldbergs as a whole. Indeed, this is a holistic a performance. It's also one which implicitly advocates the harpsichord as the instrument on which to get the most from the Goldbergs.
If Haas had a single aim (and it's clear he had several, all of which he achieved very well), it was to expose and communicate successfully the amazing confluence of technical complexity (canonic writing, felicitously almost "magical" combinations of line and harmony) with a grace and elegance that are timeless. Certainly one that is rooted more firmly in the contrapuntal beauties of the Baroque than the Gallant style to which the rest of the world was moving. And Haas succeeds extremely well, almost without apparent effort, certainly with a pleasing mix of dignity and engagement in his playing. One ends a session listening to Haas' Goldbergs with a feeling of both freshness (which is not novelty but clarity) and deep satisfaction (which is borne of both admiration and involvement).
Haas' tempi are steady but alive. His sense of each piece's structure and of the Goldbergs' architecture as a whole is clear yet not staid. Certainly still developing, for all the performer's quiet and unassuming sense of certainty at what the Goldbergs mean to him now. It doesn't take long, either, to realize just how much Haas actually enjoys performing this music. There is a sense of spontaneity and enlivened wonder that pervades, not exactly variation after variation – for that would be just as forced as a performance that "worked its way through" them all. But an awe and delight that comes from having totally absorbed the music's essence and left his hands, mind and heart ready to emphasize all the many things which the music demands at the moment of performance.
Haas sees the work as a series of "very short passages, something quite uncommon in Johann Sebastian Bach's work" [booklet, page 25]. That informed his decision to use a French harpsichord. This could give all sorts of wrong impressions; it shouldn't! Just as Haas shuns keyboard pyrotechnics and is the better for full contact with real moist earth, so he is committed to the lucid, crystalline transparency of the French Hemsch harpsichord.
Like Bach, Haas grew up interested and competent in the mechanics of instruments, their construction, maintenance and adjustment. Above all, the Hemsch is an extremely responsive instrument, which militates time and again in favor of a very direct relationship between the intention to complete a phrase or chord, the necessary touch, and the sounded result. This immediacy is evident in such passages as the 26th Variation [tr.27 ], for example – never "burly" or "helter-skelter" yet full, rounded and tumbling and agile in the way an acrobat is, not a drunkard. Yes, Hemsch was originally German; but he worked in a totally French milieu. At least one of his sublime instruments (five are known still to exist) went to Rameau's benefactor. This is a sound that never even threatens to tire the ear. Its superb resonances and rich tones are as full and satisfying in the way that a mirror is, rather than glass. Yet each note is distinct. Haas treasures (yet is not timid in the presence of) such a perfect sonic world. It makes a fitting partner to the Goldbergs. He has the measure of both and has produced a stimulating and deeply satisfying performance that bears many repeated listenings with something new and delightful at each one.
The recording was made in October 2010 at the Château de Ronchinne in Belgium, which is an easy and appropriate acoustic for this performance: there is just the right amount of atmosphere and reverberation without the delicacies and character of the instrument's ever being lost or overshadowed by "ambience". The booklet in French, English and German is nicely informative yet suffers (a small complaint) from unnecessarily "trendy" typography apparently inserting quotes or quotations (or are they? what are they? what are their sources?) in larger font and with garish colors. This should not detract from the overall presentation of this excellent account, which can safely be placed in your top half dozen for consideration. Haas' vision of the Goldbergs is a perceptive, intricate and honest yet lively and affirmative one. It's a beautiful whole that deserves very close attention indeed.
Copyright © 2012, Mark Sealey.