Related Links
Recommended Links

Site News
DVD Review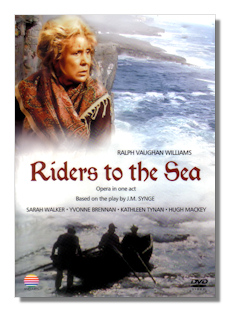 Riders to the Sea
Opera in One Act
Sarah Walker, mezzo soprano
Yvonne Brennan, soprano
Kathleen Tynan, soprano
Hugh Mackey, baritone
Mary Sheridan de Bruin, soprano
Martin Murphy, voice
Radio Telefis Eireann Chamber Choir
Radio Telefis Eireann Chamber Concert Orchestra/Bryden Thomson
Kultur Video 032031439092 44m Full Screen
"Riders to the Sea" is perhaps Vaughan Williams' most successful operatic venture. This dramatic story based on J.M. Synge's telling play relates the events of the inhabitants living on the stormy west coast of Ireland where the primitive life and constant struggle against the elements are a daily feature.
The composer expresses the virtue of human endurance with brilliant reality and Maurya's verwhelming grief at the loss of her father-in-law, husband and husband and six sons to the fury of the sea grips the viewer with compassion. Sarah Walker gives a compelling performance and together with the rest of a formidable cast under the direction of a flawless Bryden Thomson.
Issued in 1988, on the 30th anniversary of composer's death, this filmed version is still as fresh and vivid as it was then, and in the new format the combined talents of Louis Lentin (producer and director), Jay Clements (Set design), Carol Bertera (costumes) and Jin Kellett (lights) are even more impressive.
Although the opera's duration is just shy of 45 minutes, Vaughan Williams captures the soul of Synge's dramatic masterpiece with an instinct that is supreme, and his integration of text and music give the work a strong sense of structural yet compact beauty. This is a hugely important addition to the still scant Vaughan Williams DVD catalogue on the 50th anniversary of his death.
Copyright © 2009, Gerald Fenech