CD Review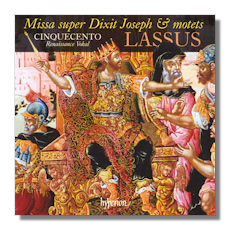 Missa super Dixit Joseph and motets
Missa super Dixit Joseph
Confitemini Domino
Dixit Joseph undecim fratribus suis
In me transierunt irae tuae 1
O mors, quam amara est memoria tua
Deus, qui sedes super thronum
Si bona suscepimus
Deus, canticum novum
Veni dilecte mi
Fallax gratia
Timor et tremor
1 Bernd Oliver Fröhlich, tenor
Cinquecento
Hyperion CDA68064
Lassus was a prolific Franco-Flemish composer working in the latter half of the sixteenth century who exemplified the height of late Renaissance polyphony – in company with Palestrina and Victoria. His music is of great beauty and serenity yet lacks nothing in energy and pointedness. Indeed such a sense of controlled tranquility is a quality which the members of the pan-European group Cinquecento (from Austria, Belgium, England, Germany and Switzerland) bring out very well.
Indeed, the diction and projection of the six members of the group articulate Lassus' many lines and intersecting textures clearly and in such a way that it's almost too light, too transparent. There's little of the almost bravura set of layers which characterizes other (admittedly sometimes larger) ensembles. Lassus benefits from this. The music is even, even-tempered and impresses for its placidity, rather than by shining or shimmering. The two countertenors, two tenors, baritone and bass with Bernd Oliver Fröhlich's second tenor for the "Agnus Dei" of the Mass and In me transierunt produce a sound that's comfortable, reliable, persuasive and genuine. Not forward or falsely spectacular.
This is not to say that the result lacks vigor, or interpretative character. Cinquecento knows that Lassus' music – ethereal, sure, gentle – benefits from intelligent exposition, an emphasis on the texts, and a quiet, barely-stated, presence. These convey the reflective deliberation that must have preceded each performance for those of the composer's contemporaries who looked for it. Each of the dozen or so works here is short (the Mass lasts nearly 26 minutes); and even in the other longest single movement Si bona [tr.11], the singers of Cinquecento eschew declamation and rhetoric…"Dominus dedit, Dominus abstulit": nothing is certain.
It's as though Lassus is advising us that faith and certainty are derived from the continuity and unexceptional nature of sensitively-developed musical lines. The singers of Cinquecento represent such a sentiment to us by always looking at the horizon, not their feet. Their sense of when to "relax", to lessen the tension is as good as when to lead us more closely forward with them.
Nor does the tone of the singers ever lack enthusiasm. It also prizes variety. Atmosphere is never spurious; but a sense of exultation in Veni dilecte mi [tr.13] from the "Song of Songs" is appropriate and appropriately handled; as is warning, almost – certainly exhortation – in the Fallax gratia [tr.14] next; and the sense of uncertainty in the face of peril in Timor et tremor [tr.15].
As far as it can be dated, the music on this CD comes from the years between 1562 and 1573; Lassus died in 1594. He wrote 70 mass settings alone (though of those that survive ten are of doubtful origin), and much other music besides. He still needs an ambassador for the uninitiated. If confidence, technical prowess worn lightly and insight into the music which makes it a delight to listen to many times over are the qualities for such a role, Cinquecento make good ambassadors indeed.
Cinquecento's understanding of Lassus is a deep one. The surface of the sound and the imperturbability of his music make suitable starting points for the listener. But it's obvious that Cinquecento wants us really to understand Lassus' music. To that end they do not invite us to draw on our own experiences (of fear, desire, loss, joy); rather to listen more deeply to the relationship between word and melody, poetry and harmony as set out by Lassus. Almost, though, as if we'd never heard his music before. But by the end of this very welcome CD lasting over an hour, we're glad we have spent the time with him that we have. In Cinquecento we're in good hands. Yet there's no passivity or pre-digestion. Nor plainness, nor neutrality. Instead, they sing with great understanding and delight; and it's a delight and maturity which match the music of a composer who is still under-appreciated.
The acoustic of the Kloster Pernegg in Waldviertel, Austria, is a quiet and calm one. There's little reverberation. Again, this suits Lassus' emphasis on the text and on untrammeled communication with his listeners. The booklet contains background to the composer, the texts in German, Latin and English as well as a brief portrait of Cinquecento. This appears to be the only currently available recording of the Mass itself – indeed the only recordings of several of the works performed here (except the widely anthologized Timor et tremor); and of these there are but a handful. No lover of Lassus should let the peaceful and lucid singing of Cinquecento slip. It's a good contribution to the lovely music of the period which should not be missed otherwise.
Copyright © 2015, Mark Sealey