Related Links
Recommended Links

Site News
DVD Review
It's all about the music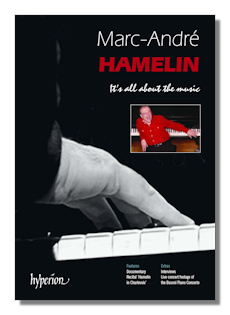 The Art of Marc-André Hamelin
Part I: It's all about the music: the art of Marc-André Hamelin (47:48)
A documentary film, featuring Marc-André Hamelin, which looks at the music-making of virtuoso composer-pianists from both the present and 'golden age'. Including interviews with Ronald Stevenson, Robert Rimm and Andrew Keener, plus Marc-André Hamelin performing music by Albéniz, Alkan, Busoni, Dukas, Godowsky, Hamelin, Kapustin, Liszt, Medtner, Rzewski and Schubert.
Part II: Recital: Hamelin in Charlevoix, Quebec (47:50)
Godowsky/Chopin: Seven Studies on Chopin's Études
Leopold Godowsky: The Gardens of Buitenzorg from Java Suite
Liszt/Wagner: Isoldens Liebestod, S447
Liszt/Verdi: Ernani - Paraphrase de Concert, S432
Salvatore Sciarrino: Anamorfosi
George Antheil: Piano Sonata No 4 'Jazz Sonata'
Claude Debussy: Reflets dans l'eau from Images II
Interview with Marc-André Roberge (Professor of Musicology, Laval University)
Part III: Extra features (25:45)
Ferruccio Busoni: Piano Concerto Op. 39, fourth movement, 'All' Italiana' (Concert performance) *
Interview with Jay Reise (composer)
Interview with Harvey Wedeen (Professor of Piano, Temple University)
Robert Rimm (author of The Composer-Pianists: Hamelin and the Eight)
Marc-André Hamelin, piano
* Lahti Symphony Orchestra/Osmo Vänskä
Hyperion DVD A68000 121m Dolby Digital 2.0 Anamorphic Widescreen
After regaling us with hundreds of memorable discs over a period of more than two decades, Hyperion now takes the plunge into the world of DVD with this issue dedicated to one of today's keyboard phenomena, the Canadian Marc-André Hamelin.
The first part, although informative, seems to focus more on Hamelin's enthusiasm for the music he performs rather than his personal career, and although the approach is laudable and refreshing, I would have preferred to have heard more on and from the protagonist himself. Still, this minor oversight apart, there is much to admire and enjoy in this first segment.
Part II, featuring the soloist in performance is nothing short of mesmerizing. My library houses many CD's by this amazing pianist but witnessing the extreme concentration and economy of effort with which he achieves his formidable artistry is absolutely astonishing. Watch out for the final extra track of a live performance of the 'Tarantella' from Busoni's huge piano concerto.
Although sound and vision are not crisply captured, the piece will surely leave you applauding enthusiastically. The learned comments on the tradition of the composer-pianist by Marc-André Roberge (Professor of Musicology, Laval University) are an added bonus. A most commendable first venture which should open the way for many more.
Copyright © 2007, Gerald Fenech