Related Links
Recommended Links

Site News
CD Review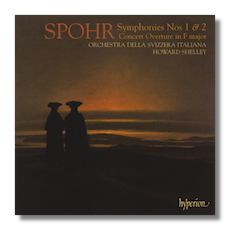 Symphonies, Volume 1
Grand Concert Overture in F Major, Wo0 1
Symphony #1 in E Flat Major, Op. 20
Symphony #2 in D minor, Op. 49
Orchestra Della Svizzera Italiana/Howard Shelley
Hyperion CDA67616 74m DDD
Hyperion seems to have embarked on a symphonic cycle of Beethoven's rather underrated contemporary Louis Spohr and on the evidence of this first disc, it should certainly be something to look forward to. On this disc we have the First and Second symphonies which are charming works, if rather low on sparkle and original melodic content.
Howard Shelley has the grasp and command of the music as can be deduced from his spirited account of the Grand Overture which heralds the disc. The First Symphony is also beautifully done with its slow movement particularly enticing. I preferred the Second where Spohr has obviously moved slightly on from the note spinning that characterizes some of his earlier works, the Finale is particularly boisterous, very reminiscent of Niels Gade's First Symphony.
The Orchestra della Svizzera Italiana appears to enjoy these works immensely and really one can find little to fault in Shelley's conducting. This new issue is infinitely preferable to the rather boxy sounding alternative cycle on the Marco Polo label recorded in the early 1990's. Keith Warsop's splendidly detailed and informative notes also make this issue worth buying, let's hope that we shall have the complete set of these charming symphonies before too long. Perhaps by 2009, the 150th anniversary of Spohr's death which will do nicely indeed!
Copyright © 2008, Gerald Fenech