CD Review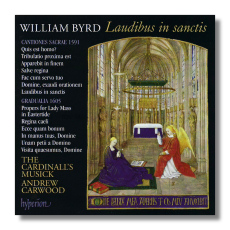 Laudibus in sanctis
Quis est homo?
Tribulatio proxima est
Apparebit in finem
Propers for Lady Mass in Eastertide
Salve sancta parens
Alleluia. Ave Maria… Virga Iesse
Beata es, virgo Maria
Beata viscera
Regina caeli
Salve regina
Fac cum servo tuo
Ecce quam bonum
In manus tuas, Domine
Unam petii a Domino
Visita quaesumus, Domine
Domine, exaudi orationem meam, inclina
Laudibus in sanctis
The Cardinall's Musick/Andrew Carwood
Hyperion CDA67568
This acclaimed and unique series of the entire Latin works of William Byrd (1539-1623) has reached volume 10. For this latest CD – shorter (from just under two to just over seven minutes) pieces from the Cantiones Sacrae of 1591 and Gradualia of 1605 – The Cardinall's Musick and Andrew Carwood have moved from AS&V to Hyperion. The beauty of the music, though, the standard of the singing and the excellence of the recording are as evident and fundamentally pleasing as ever. This disc is one to add immediately to your Byrd collection, several of the works being anyway otherwise unavailable. Unreservedly recommended.
The two qualities in the ensemble's singing that strike you from the first notes are unrushed purity and a clarity that allows the music to unfold at its own pace; every phrase perfectly formed, every idea packed with ardent meaning. Given the usually subtle, sophisticated and often somewhat understated melodic invention of Byrd, these characteristics in The Cardinall's Musick's singing are all to the good. Nor can the special circumstances under which, and for whom, the music was written (Catholics at a time when persecution for recusants was a constant fear) be ignored in the way the ensemble and their director have approached this enterprise. It seems likely that there will have been 'private' musical and textual references designed to boost esprit de corps, whose meaning is now all but lost to us. The Cantiones Sacrae were, for example, dedicated to Lord Lumley, son-in-law of a prominent Catholic and convicted plotter against Queen Elizabeth. It's in his descendants' magnificent home, Arundel Castle, that the present recording was made last summer.
Highlights include Laudibus in sanctis itself, one of ten psalm settings among the twenty-one pieces contained in the Cantiones Sacrae from 1591 is full of madrigalian rhythmic technique. The collection was published at a time when Byrd was leaving London and the accolades and exposure he'd enjoyed there at the Chapel Royal had come to an end. The works demonstrate an awareness of many contemporary musical trends… the matching of words to musical line and gentle syncopations, for example. The setting in their entirety of the psalms, Laudibus in sanctis and Ecce quam bonum, is unusual for Byrd; verses partially chosen – as in Fac cum servo tuo and Tribulatio proxima est – is more typical for the composer.
That Byrd set the Salve regina, an overtly Marian hymn was perhaps daring. It's the longest work on this CD, and one of the most satisfying. Another highlight is Quis est homo? where surely the hopes of this same excluded minority that the eyes of God are watching the sinful (the Protestant oppressors of Byrd and his community) with the implication that 'their time will come'.
In 1605 Byrd published the first of two Gradualia with a dedication to Henry Howard, another Catholic dissident who had sailed close to the wind in recent years; the dedication, though, is just as likely to reflect Byrd's approval of Howard's support for Chapel Royal living standards, securing for its members the first substantial pay rise in over 200 years. These motets are mostly Marian too and contain some of the most emotive, delicate and persuasive music here. In manus tuas, Domine is interesting in that it both was originally an instrumental composition, and combines two separate texts. That it's hard to place it in an established conventional liturgical milieu suggests yet again that this was Byrd writing for possible private performance by and for discreet Catholic families in places of worship. The sheer quality of the composer's work effectively protected him from too stringent harassment for his religion. Equally special and atmospheric, and also possibly adapted from a keyboard piece, Visita quaesumus, Domine, could well have ended this CD for its gentle, soft and reassuring nuances. As always, the singing is sensitive, genuine and contained. The commitment of The Cardinall's Musick and their unrivaled technique are what make such performances so satisfying.
The Cardinall's Musick is less than twenty years old; yet it and its accomplished director, Andrew Carwood, have already established themselves as leading exponents in English renaissance polyphony. Building their work on extensive musicological research and preparation, they also aim for a sound composed emphatically of the ensemble's individuals, rather than a homogeneous 'wall'. Surely more likely to have been what contemporaries heard and wanted when this music was first heard over four hundred years ago. Their impact is accentuated too by the evident love and empathy for the music and the circumstances (by and for the persecuted minority) in which it was performed.
What you will hear on this well-presented single CD (with full, informative liner notes plus texts in Latin and English) is singing of the highest order; atmospheric, professional, acute and pointed without being either distant or glossy. The dynamics and tempi are finely judged, the contrasts in sequences exciting and the acoustic generous yet authoritative. So, lucid, moving, accomplished articulation, beautiful tone in service of this alluring repertoire, not of some over-polished show, the The Cardinall's Musick's latest volume is welcome, uplifting and exemplary in every way.
Copyright © 2007, Mark Sealey