Related Links
Recommended Links

Site News
CD Review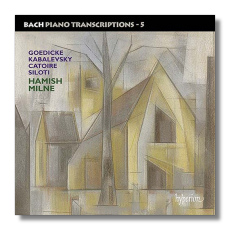 Piano Transcriptions by Russian Composers
Prelude and Fugue in G Major, BWV 541 (arr Goedicke)
Prelude in B minor from Clavierbüchlein für W.F. Bach, BWV 855a (arr Siloti)
Prelude from Cantata #35, BWV 35 (arr Siloti)
Prelude and Fugue in D minor BWV 539 (arr Goedicke)
Air from Orchestral Suite #3 in D Major, BWV 1068 (arr Siloti)
Adagio from Sonata for violin and keyboard in F minor, BWV 1018 (arr Siloti)
Fugue in C minor BWV 575 (arr Goedicke)
Andante from Sonata for solo violin in A minor, BWV 1003 (arr Siloti)
Passacaglia in C minor BWV 582 (arr Catoire)
Siciliano from Sonata for flute and keyboard in E Flat Major, BWV 1031 (arr Siloti)
Toccata and Fugue "Dorian" in D minor BWV 538 (arr Kabalevsky)
Hamish Milne, piano
Hyperion CDA67506 72m DDD
Hyperion's voyage of discovery through the enriching legacy of piano transcriptions of Bach masterpieces arrives at its fifth instalment, and what a fascinating programme awaits the listener, in fact one may safely dub it 'Bach à la Russe'.
The popular belief that Bach was forgotten from the time of his death until Mendelssohn in Germany and Parry in England revived his music is more myth than reality. Mozart, Beethoven and Czerny in some way all kept the Bachian torch alive. What is so miraculous about Bach's music is that it can be clothed in the attires of subsequent periods and still retain the freshness, vigour and thought-provoking character of its conception. This disc incorporates eleven such works all transcribed by Russian composers which number four in all, namely Alexander Siloti, Alexander Goedicke, Georgi Lvovitch Catoire and Dmitri Kabalevsky.
While Goedicke's and Catoire's works are composed on a grand and heroic scale, Siloti's are of a gentle and delicate nature. Kabalevsky's only contribution is a veritable tour-de-force of the 'Dorian Toccata and Fugue', a large and thrilling conception that excites and fascinates simultaneously. The executive producers, Simon Perry and Mike Spring have conjured up a meticulously balanced programme full of imaginative and attractive realizations which not only display Bach's undoubted genius, but also the highly original flair of the Russian School.
Although Hamish Milne has already featured in the Romantic Piano Concerto Series with the recordings of the Holbrooke, Haydn Wood and Lyapunov Piano Concertos, this is his first recording in this series and as expected, delivers performances in both their exquisite spectrum of colour and luminous singing lines, embodying the great tradition of pianism's golden era. Milne's biography in the booklet notes informs us that he is a professor at the Royal Academy of Music in London. And so should he be, as his annotations are one of the great positive points of this issue. Hyperion's recent labours of love are a must for all Bach fans, particularly those with a taste for the unusual.
Copyright © 2005, Gerald Fenech