Related Links
Recommended Links

Site News
CD Review
Kurt Weill / Pēteris Vasks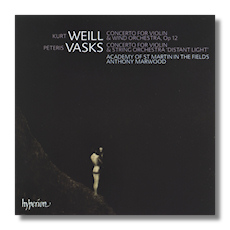 Violin Concertos
Kurt Weill: Concerto for Violin & Wind Orchestra, Op. 12
Pēteris Vasks: Concerto for Violin & String Orchestra "Distant Light"
Anthony Marwood, violin
Academy of St. Martin-in-the-Fields/Anthony Marwood
Hyperion CDA67496 57m DDD
Kurt Weill was born in 1900 when musical styles were drastically changing. After a childhood steeped in music and several years of study in Berlin with Ferruccio Busoni, he launched his career in the early 1920's. Although by 1926, he was already an established German-Jewish composer, he had already made up his mind on devoting himself to the musical theatre. His marriage to the actress Lotte Lenya in 1926 and subsequent collaboration with Bertolt Brecht not only fulfilled his ambitions, but also made him famous throughout Europe.
With the rise of Nazism in 1933, he fled his country and settled in America until his death in 1950. The orchestration and harmonies of his 1924 Violin Concerto are close to the language of the Second Viennese School and can be filled somewhere between Schoenberg and Stravinsky. Weill injects witty and humorous themes in stark contrast to other brooding ones, often mixing them together as if they were unrecognizable. An element of jazz influence is also noticeable.
The Vasks concerto could not be farther removed from Weill's astringent conception. Born in Latvia in 1946, Pēteris Vasks was the son of a pastor in a godless state. Forbidden to study in the Latvian Academy of Music because of this stigma, he travelled to Vilnius in Lithuania to enroll at the Academy in that next-door capital. As with many composers who emerged from eastern Europe in the 80's and 90's such as Pärt and Górecki, Vasks music is rich in its spiritual content. His ideal that music exists only if it can carry the message of eternal hope and love permeates practically his whole oeuvre.
It is no surprise then that "Distant Light" is not only full of music that shimmers with beauty, but is also a very profound spiritual experience. Composed in 1996-97 at the request of Gidon Kremer, the work is built in a single span of music and strongly suggests that suffering and grief can only be assuaged through music that inspires faith in a just all-encompassing God. Anthony Marwood is perfectly suited to tackle these two contrasting works, displaying a tone and intonation that is pure and sensitive. His immaculate attention to detail is absolutely spot on as is his conducting of the ASMF who respond with total commitment.
Excellent notes by Martin Anderson complete a fascinating disc which should cause a stir, particularly among 20th Century music aficionados.
Copyright © 2005, Gerald Fenech