CD Review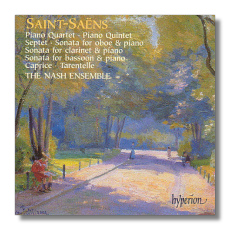 Chamber Music
Quartet for Piano and Strings in B Flat Major, Op. 41
Quintet for Piano and Strings in A minor, Op. 14
Septet for Piano, Trumpet, String Quartet and Double Bass in E Flat Major, Op. 65
Sonata for Oboe and Piano in D Major, Op. 166
Sonata for Clarinet and Piano in E Flat Major, Op. 167
Sonata for Bassoon and Piano in G Major, Op. 168
Tarantella for Flute, Clarinet and Orchestra, Op. 6
The Nash Ensemble
Hyperion CDA67431/2 134m 2CDs DDD
After the chamber works of Poulenc, Suk and Vaughan Williams, the Nash Ensemble now turn their attention to one of France's most quintessential musical figures of the 19th century; Camille Saint-Saëns. Born in 1835, Saint-Saëns contributed an enormous amount of works to every genre of the musical arena and his influence throughout the country was unquestioned. Apart from his compositions, he also found time to teach, write plays and poetry and above all, to practice the dangerous critic's art. By the time he died in 1921, he was a legend both at home and abroad. After his death, though, he suffered a strong and steady decline as changing musical styles and fashions stifled most of the romantics.
The main works of this double album are the Piano Quintet and the Piano Quartet composed in 1855 and 1875 respectively. The Quintet is overflowing with a youthful joie de vivre, which inspires confidence, optimism and a large dose of good humour. The Quartet is a cyclic composition full of fine music ranging from the eloquent to the virtuosic. Its dynamic span is also very expansive, incorporating a wide spectrum of colour, rhythm and in places, a skilful contrapuntal mastery.
The rare Septet, Op. 65 is scored for the unusual combination of trumpet, two violins, viola, cello, double bass and piano. Saint-Saëns later confessed that he was rather hard pressed to write this work against his better judgment, but this Septet turned out to be one of his great successes, the main reason being the sonorous quality of its timbre and the many perky tunes featured in each of its four movements.
Other unique curiosities are the 3 Sonatas that the composer wrote for each of the main woodwind instruments; oboe, bassoon and clarinet, although those for cor anglais and flute never saw the light of day. Full of haunting melodies, these miniature gems are superb examples of Saint-Saëns great genius, which remained undiminished even at the age of 86. In each sonata, the versatility and distinctive timbre are marvelously displayed, and in all three, the piano is deftly integrated.
The Tarantelle Op. 6 and Caprice on Danish and Russian airs, Op. 79 complete this outstanding issue. The former is an early work, composed in 1857, which by 1873 had acquired enough popularity that it was played not only in Europe but in New York as well. It is distinguished by energetic and playful exchanges between flute and clarinet, with a soft caressing middle section in dialogue and unison. The Caprice, composed in 1887, exploits the varied sections alternating with slow, expressive and improvisational melodies played both in solo and ensemble combinations.
The Nash Ensemble have built a reputation as one of Chamber Music's finest groups, and this set is without doubt, one of their most exemplary and satisfying achievements. The performances they deliver are full of sparkling wit and charming gracefulness, and the insight of their music making is both a revelation and a joy. Another Hyperion hit, enhanced by the excellent visual art work and scholarly notes by Sabina Teller Ratner.
Copyright © 2005, Gerald Fenech