Related Links
Recommended Links

Site News
CD Review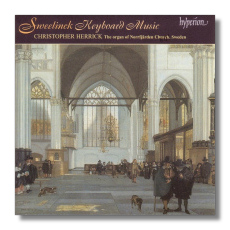 Organ Music
Fantasia Chromatica
Onder een linde groen
Ons is gheboren een kindekijn
More palatino
Onse Vader in hemelrijck
Ballo del granduca
Erbarme dich mein, o Herre Gott
Est-ce Mars?
Christe qui lux est et dies
Ick voer al over Rhijn
Malle Sijmen
Psalm 116 – Ik heb den Heer lief
Poolsche dans
Fantasia (a-Phrygian)
Engelsche Fortuyn
Mein junges Leben hat ein End
Pavana Philippi
Toccata (Ionian)
Pavana Lachrimae
Allein Gott in der Höh sei Ehr
Ich ruf zu dir, Herr Jesu Christ
Pavana hispanica
Nun freut euch, lieben Christen gemein
Echo Fantasia (Ionian)
Ricerar (Aeolian)
Christopher Herrick at the organ of Norrfjarden, Kyrka, Norfjaarden, Pitea, Sweden
Hyperion CDA67421/2 2CDs 152m DDD
This double album is really a marvelous testament to the versatility and originality of Jan Pieterszoon Sweelinck, probably the greatest Dutch organist ever. This is an ideal collection of pieces that spans a wide range of Sweelinck's numerous compositions.
Christopher Herrick is an ideal exponent of this wonderful music that shows the high esteem in which the composer was held. I remember hearing some of his works a number of years ago in a Piet Kee collection on Chandos and remember being bowled over by the music.
There is much to enjoy here with the various pieces such as the expansive Fantasia Chromatica and the exquisite, 'Ballo del granduca' providing contrasting emotions. There are various Dutch titled preludes rather similar to the more erstwhile Bach style but at the same time retaining that unique Sweelinck touch.
Herrick is clearly enjoying himself in the myriad of tones and musical variety that is thrown at him especially in the Phrygian Fantasy that opens the second disc and the monumental concluding Ricercar, probably one of the greatest ever organ compositions. I spent a blissful two and a half hours listening to this music transported almost 4 centuries before in a large Reformation Church, an experience that I hope many more will share!
Copyright © 2003, Gerald Fenech