Related Links
Recommended Links

Site News
CD Review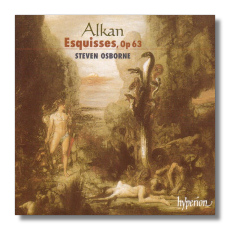 48 Equisses, Op. 63
Steven Osborne, piano
Hyperion CDA67377 75m DDD
Steven Osborne has already established himself as the perennial Alkan pianist, a virtuoso of the highest order in these fiendishly difficult works from a genial composer.
This CD is dedicated to the 48 Equisses Op. 63, a multi-faceted collection of short piano pieces that is brimful with energy, vitality and sheer technical difficulty.
There are four books of several pieces each, most of them last just less than two minutes and Misha Donat explains most of the style used in his fastidiously detailed notes.
There is much to enjoy in these original works that place Charles-Valentin Alkan amongst the top echelon of piano composers. Osborne evidently enjoys himself throughout and brings real passion and vitality to the music.
If you are already a dedicated Alkan fan then you will definitely want to add this superbly recorded and presented disc to your collection.
Copyright © 2003, Gerald Fenech