Related Links
Recommended Links

Site News
CD Review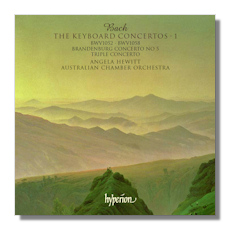 The Keyboard Concertos
Keyboard Concerto #1 in D minor, BWV 1052
Keyboard Concerto #7 in G minor, BWV 1058
Brandenburg Concerto #5 in D Major, BWV 1050 *
Triple Concerto in A minor, BWV 1044 *
Angela Hewitt, piano
* Richard Tognetti, violin
* Alison Mitchell, flute
Australian Chamber Orchestra/Richard Tognetti
Hyperion CDA67307 77m DDD

Keyboard Concerto #4 in A Major, BWV 1055
Keyboard Concerto #3 in D Major, BWV 1054
Keyboard Concerto #2 in E Major, BWV 1053
Keyboard Concerto #5 in F minor, BWV 1056
Keyboard Concerto #6 in F Major, BWV 1057 **
Angela Hewitt, piano
** Alison Mitchell & Emma Sholl, flutes
Australian Chamber Orchestra/Richard Tognetti
Hyperion CDA67308 76m DDD
These two very well-filled CD's contain all the known concertos for a solo keyboard by J.S. Bach. Most of these works were written during the 1730's and are presumed to be arrangements of previous concertos, many of which are now lost. The ones in E and A Minor (Triple Concerto) will immediately be recognized as the composer's violin concertos in those keys, and the sixth in F is an arrangement of the Fourth Brandenburg Concerto. The Fifth Brandenburg with flute, harpsichord and violin soloists dates from 1721 and is mostly regarded as the first concerto for a solo keyboard instrument ever composed. Bach wrote an exceptionally brilliant keyboard part and included a cadenza of immense proportions; he certainly had the genius to invent a genre in a most convincing manner.
These pieces have always been considered as some of Bach's most refreshing and highly inventive works in the genre, but in Angela Hewitt's hands, they not only sound more buoyant and lively, with the spirit of the dance never amiss in the fast movements, but the slow movements are in contrast pervaded by a docile and vocal aura that makes the lines sing. Hewitt's mammoth Bach project for Hyperion is admirable and self recommending and these latest issues only reaffirm the amazing ability of the soloist to really get into the spirit of these immortal compositions, and capture all their hidden beauties.
It was only after careful deliberation that Angela decided on the accompaniment of the Australian Chamber Orchestra, an ensemble with a natural quality and aptitude for such works. These discs are a testimony to their perfect collaboration, and with Richard Tognetti's fastidious direction very much to the fore (he also plays the flute), the end product is quintessentially rich and rewarding.
Copyright © 2005, Gerald Fenech