Related Links
Recommended Links

Site News
CD Review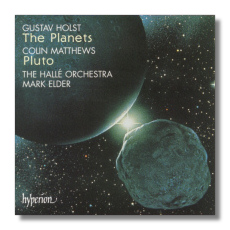 The Planets, Plus
Suite "The Planets"
Lyric Movement for Viola & Orchestra
Neptune - The Mystic (original ending)
Colin Matthews: Pluto - The Renewer
Tim Pooley, viola
Ladies of the Hallé Choir
Hallé Orchestra/Mark Elder
Hyperion CDA67270 75m DDD
Hyperion has beaten everyone to the finishing line in releasing the first recording of Matthews continuation to Holst's 'The Planets' describing the planet 'Pluto'. Attention is certainly deserved but Elder's interpretation of the whole work is certainly one of the finest now available.
A fiery and raw 'Mars' reminds me of Boult's excellent 1942 recording whilst the ethereal calm of Venus is very well portrayed with the Hallé harps particularly evocative. The same goes for 'Mercury', a winged messenger indeed with the spacious Hyperion recording coming in quite close on the silky sounds emanating from the Hallé players. 'Jupiter' is a boisterous planet and the central theme is played for all it is worth and without much bombast that occasionally detracts from the piece's significance. 'Saturn' is ponderous and noble, drawn out to almost ten minutes but the massive nature of the planet is very well conceived, at least in my opinion. The magic 'Uranus' stomps and rolls about almost in Dukas like fashion here but there is a tinge of harmonic imbalance that seems to suggest a further sense of mystery. Mystery is certainly not lacking in 'Neptune', my favourite movement for the sense of awe and space that it conveys.
I confess that I did not think Matthews' description of 'Pluto' all that evocative but it will do as a filler, Holst is not, and will never be around anyway so we can make do with this one nicely. The bouncing nature of the work seems to miss the even deeper mystery that pervades Pluto, a planet which is also probably a lost Neptune moon, as Matthews himself tells us in the booklet.
Hyperion adds one of Holst's last works, the Lyric Movement for Viola originally composed for Lionel Tertis with Timothy Pooley, an excellent exponent of the work. There is also the original 'Neptune' ending with ladies choir, to my mind more satisfying and representative of Holst's genius.
As a whole, the recording is a first class version that will sit comfortably alongside Boult, Karajan and Dutoit but its bonus lies in the Matthews piece which is certainly a must to have for completion's sake. In any case you can always programme your CD player to hear the work as originally written!
Copyright © 2001, Gerald Fenech