Related Links
Recommended Links

Site News
CD Review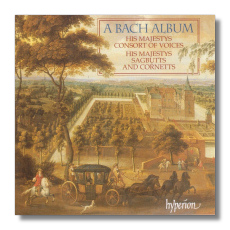 Various Works Arranged for Brass and Voices
Sinfonia (after BWV29/1)
Aus tiefer Not schrei ich zu dir (after BWV 686, 38/1, 687 & 38/6)
Allein Gott in der Hoh' sei Ehr (BWV 715a)
Verschiedene Canones (BWV 1087, performing version by Roberts)
Meine Seele erhebet den Herren (BWV 648)
O Jesu Christ, meins Lebens Licht (BWV 118)
Wenn wir in hochsten Noten sein (after BWV 432, 641 & 431)
Vor deinen Thron tret ich (BWV 668)
Nun komm, der Heiden Heiland (after BWV 659, 36/8, 660, 62/6 & BWV 661)
Sei Lob und Preis mit Ehren (BWV 29/7)
His Majesty's Consort of Voices
His Majesty's Sagbutts and Cornetts/Timothy Roberts
Hyperion CDA67247 61m DDD
This is indeed a splendid album and collection of sublime music! What is immediately apparent is that Bach's music transcribes quite excellently for such celebratory forces, especially the lovely motets, full of panache and beauty.
The famous motet, 'O Jesu Christ meins Lebens Licht' is wonderfully played and one can really appreciate the beauty of the words here. Other characteristically faithful pieces are the various four-part chorales, the organ chorales and the monumental variations on the famous 'Aria' from the Goldberg Variations. You cannot really pinpoint any particular piece as all are played and interpreted with wondrous panache and intensity by Roberts and His Majesty's Sagbutts and Cornetts.
The presentation is also superb with a stunning reproduction of the 'View of Hemsiken Castle' by Melenauer an obscure 17th-century artist who was definitely not without talent. If you are into Bach's music in different forms and arrangements, you cannot fail to be without this disc.
Copyright © 2002, Gerald Fenech