CD Review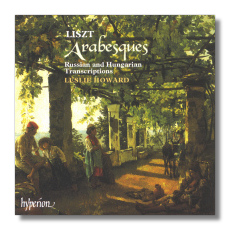 Arabesques
Prélude à la Polka de Borodin, S. 207a
Arabesque "Melodie Russes"
Le rossignol after Alyabiev, S. 250/ 1
Chanson bohémienne after Bulakhov, S. 250/ 1
Virag dál - "Chant des fleurs after Ábrányi", S. 383a
Mazurka, S. 384
Valse de concert after Végh, S. 430
Valse d'Adèle after Zichy, S. 456
Galop russe after Bulhakov, S. 478ii
Tarentelle after Cui, S. 482
Romance "Autrefois" after Wielhorsky, S. 577ii
Tarentelle after Dargomyzhsky, S. 483
Spanisches Ständchen after Festetics, S. 487
Revive Szegedin!, S. 572
Introduction and Hungarian March after Széchényi "Bevezetés és magyar induló", S. 573
Rhapsody "Rapsodies hongroises" - Rákóczi-Marsch "version populaire", S. 244c
Leslie Howard, piano
Philip Moore, piano secundo
Hyperion CDA66984 79:12
Summary for the Busy Executive: Play, gypsies, play!
Volume 35 of Leslie Howard's (not that Leslie Howard) plow-through of the complete piano music of Liszt emphasizes Liszt the touring virtuoso and international music superstar. Liszt travelled extensively throughout Europe, even reaching into Russia. Russian composers were crazy about his music anyway, and he in turn became excited over what the new Russians (Glinka, Dargomïzhsky, Tchaikovsky, and the kuchka) were turning out. The Russians, while rejecting Liszt's harmonic habits, nevertheless found in him a soul-mate with regard to form. For his part, Liszt loved their distinctively new melodies and harmonies.
Liszt met many of the outstanding Russian composers in St. Petersburg and became especially close to Borodin and Rimsky-Korsakov. The latter got up two unusual projects. During a musical evening, Rimsky's young daughter complained that they didn't write tunes people wanted to hear. Rimsky then asked her to give an example. The little girl went to the piano and began to play "Tati-Tati," the Russian equivalent of "Chopsticks." This gave Rimsky the idea for a group project: the composers Cui, Liadov, and Rimsky would each write a couple of variations on "Tati-Tati" for two pianos – the first part consisting of "Tati-Tati" in the treble (presumably played by Rimsky's daughter), and the second part a more complicated layer comprising the variation. They sent this off to Liszt who responded enthusiastically. Encouraged, they conceived of an even more elaborate project on the same scheme. This time Cui, Rimsky, Liadov, Borodin, and a composer named Stcherbatcheff contributed more elaborate variations, and Liszt provided a "prelude" to the entire collection, also based on "Tati-Tati," as well as at least one interlude. The CD gives us his prelude to Borodin's polka on "Tati-Tati," as well as the polka itself.
The rest of the disc is given over to transcriptions of Russian and Hungarian songs, dances, and even orchestral works. Liszt on his tours had an immense need for new repertoire, especially repertoire geared to the places he played. In Italy, he would play paraphrases on Italian opera; in Vienna or Hungary, he would give popular Hungarian tunes his super-glam treatment. This is sort of the equivalent of the vaudevillian's "It's great to be here in Sandusky!" Beyond that, however, he undertook many of his transcriptions with the idea of missionary work, spreading new music to all corners of Europe before the age of recording.
Most of the music is pleasant, with the best examples Borodin's Polka and Cui's Tarentelle, as you might have suspected. Liszt's version (one of many) of the Rákóczi March, however, raises the roof and stirs the blood, as do Revive Szegedin! and Bevezetés és Magyar Induló ("introduction and Hungarian march"). Szeged, famous for its paprika and other spices, was destroyed by a flood. Szabadi wrote a patriotic piece which Massenet orchestrated for a relief concert in Paris. Liszt transcribed the Massenet version. The Introduction and Hungarian March amounts almost to a recomposition. Howard compares it to the late Hungarian Rhapsodies, and I agree. The march especially digs deeper than most of the other stuff here.
If you're in the mood for, say, Liszt's b-minor Ballade, this program (except possibly the Introduction and Hungarian March) won't satisfy you. The program is designed, however, to give you an enjoyable time.
Leslie Howard has reached God knows how many volumes (fifty-seven, I think) of Liszt's piano music, seizing the opportunity to do it all. You'd think by now he'd have scraped the barrel's bottom, but Hyperion (and probably Howard) has packaged these CDs so cunningly, that there's always something worth listening to. Besides, Liszt is an incontestably interesting musical mind, even with less-than-interesting base materials, and the virtuosic element alone furnishes a great deal of fun. Howard has established himself as one of Liszt's great advocates. He brings not only the requisite technique but a warm lyricism, all too often missing from pianists' attempts just to get the notes.
Copyright © 2009, Steve Schwartz