Related Links
Recommended Links

Site News
CD Review
John Rutter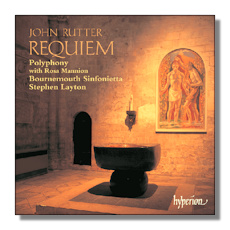 Requiem *
Hymn to the Creator of Light
Cantate Domino, Cantus
God be in my head
A Gaelic Blessing *
A Prayer of Saint Patrick
Open thou mine eyes
A Choral Fanfare
Draw on, sweet night
My true love hath my heart
The Lord bless you and keep you *
Polyphony/Stephen Layton
* Bournemouth Sinfonietta/Stephen Layton
Hyperion CDA66947
Available 30th Anniversary Series CDA30017
Raymond Tuttle's excellent 2013 review of the chamber version of the Requiem on Naxos provides a wealth of detail on the work's conception and the composer's personal journey with this music. I won't even try to top that. Like Mr. Tuttle, I'm an amateur singer, and have already sung the Gloria and some of the shorter works on this disc. This is the full orchestral version that was also reviewed here in 1999. That disc, now on Warner Classics, featured the Choir of King's College, Cambridge. For many listeners that might be enough, but for me, this present disc comes closest to the composer's own (with full orchestration and mixed voices).
Rutter has recorded this work twice with his own Cambridge Singers, and most seem to favor his earlier recording when he was a younger and healthier man. The differences between Rutter's preferred earlier recording and this one are relatively minor. Stephen Layton might be a better orchestral conductor, but only by a hair, and the tradeoff is that he is (unsurprisingly) less authoritative in nature. Layton is also consistently swifter in each movement, which certainly keeps the music moving, but also falls a little short in terms of mystery. Everything else is all to the good, especially the couplings. Reissues of Rutter's own recording have coupled it with the Magnificat, while the Warner disc has shorter pieces like this one. Released in 1997, the nearly 70 minutes of music on this disc still make it one of the more generous Rutter programs on the market over 20 years later.
All of this is a long way of saying that Rutter's beautifully accessible music can be performed in a variety of settings and still hold up very well. Rutter's own notes ruefully foreshadowed that he would eventually be taken less seriously by contemporary critical circles for his popular idiom, and indeed it's hard to argue that more recent composers haven't been more adventurous or innovative in terms of harmonics and form. But the ability to pick up music and sing it well is nothing to sneeze at, and there is a certain timelessness and comfortable quality that makes this music not only easy to sing, but also fun. Besides, some of the shorter pieces clearly go outside Rutter's "popular" style (going from the Requiem to the Hymn to the Creator of Light is delightfully jarring), and again, there's nothing wrong with "fun" music. It's not Brahms' Requiem, but it's not supposed to be. Polyphony sings wonderfully throughout, and the Bournemouth Sinfonietta is its usually excellent self. If you happen to see this disc, either as packaged here or as its more recent reissue, rest assured you're getting a program of exceptional quality.
Copyright © 2018, Brian Wigman