CD Review
York Bowen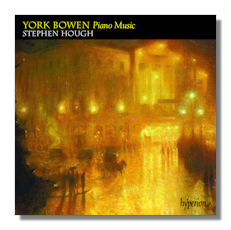 Piano Music
Piano Sonata #5, Op. 72
Toccata, Op. 155
Préludes Op. 102 #1, 2, 6-8, 10, 15, 16 & 18-22
Ballade #2, Op. 87
Berceuse, Op. 83
Moto perpetuo from Op. 39
Romances #1, Op. 35
Romances #2, Op. 45
Stephen Hough, piano
Hyperion CDA66838 DDD 77:20
Some discs have an immediate impact, while others take time to seep into the subconscious. This well-filled recording is an excellent example of the latter category: it has been sitting on my shelf for several months now; in that time other discs have made more insistent demands on my critical faculties, but somehow I kept coming back to Bowen and Hough.
I first encountered the name York Bowen in Kaikhrosu Sorabji's book of criticisms Mi contra fa strangely – or perhaps not, given the almost total neglect of Bowen's music even in his native land, despite Saint-Saëns' having once described him as "the most remarkable of the young British composers" – Stephen Hough was also motivated to investigate Bowen by the same source.
This is, as far as I can ascertain, only the second ever recording of any of Bowen's large output – which includes four piano concertos, concertos for violin and viola, two symphonies, and six piano sonatas, as well as numerous other piano works – the first, made in 1960, was by the composer himself, was once available on a Lyrita LP and is ripe for reissue. Although evidently a formidable pianist in his prime, and still a force to be reckoned with, his technique in his mid-70s was no longer what it had been.
Stephen Hough has the advantage of youth, a well-nigh superhuman technique and a more modern recording technology on his side; he is, moreover, a highly persuasive advocate for a composer whose style was, for so much of his life, deeply unfashionable. Like Nikolai Medtner, until very recently a similarly unjustly obscure composer, his melodies fall somewhat short of the instant memorability which enabled Rachmaninoff to outlast fashion so effortlessly.
Perhaps the most impressive music here is to be found in the thirteen Préludes from Bowen's Op. 102 set of 24 Préludes in all the keys. Sorabji called the work "the finest English piano music written in our time" and Stephen Hough plays these brief, yet highly-charged pieces as if he believed every word.
If you respond to the music of Medtner and the less popular piano works of Rachmaninoff – the Corelli or Chopin Variations, say – then I recommend you investigate this superb disc.
Copyright © 1997, Deryk Barker