CD Review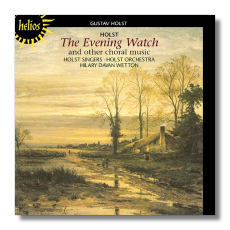 Choral Music
The Evening-watch, Op. 43 #1/H 159
2 Psalms, H 117
6 Choruses for Male Voices, Op. 53/H 186
7 Partsongs for Female Voices, Op. 44/H 162
Nunc dimittis for 8-Part Choir, H 127
The Holst Singers
The Holst Orchestra/Hilary Davan Wetton
Hyperion Helios CDH55170 64:39
Summary for the Busy Executive: Music from the bone.
Gustav Holst wrote choral music throughout his life, from intimate a cappella folk-song settings to elaborate cantatas for large chorus and orchestra. Both Parry and Stanford encouraged choral work from their students (Vaughan Williams also caught the bug), and their influence in that regard extended far beyond Holst and his friend Vaughan Williams. One can cite Britten, Walton, and Tippett as well among the majors with significant choral items in their catalogues. Furthermore, this is where the commissions and the market lay, far from, say, the opera house. The English have more top-notch choral groups than they know what to do with, and of course one notes the celebrated choral festivals in the north. Enterprising, music-loving Church of England clerics also played a meaningful role.
Holst throughout his career had to set himself to earning a living. He found it as a music teacher at the St. Paul's School and at various adult-learning schools. This didn't leave him a lot of time for composition, although he worked like a navvy at it as well. Holst didn't work; he overworked. Indeed, he worked himself to an early death. Because of his teaching, much of it for amateurs, choral music looms fairly large in his catalogue, as opposed to symphonic and chamber music. What he would have done had he independent means is open to conjecture.
Nevertheless, Holst never sloughed off a piece. His choral music, particularly his part-songs, ranks among the best of the century. The counterpoint comes off as astonishing and effortless, and each individual "chord" is beautifully spaced. As in most of this composer's music, one finds a to-the-bone economy. Each note does a lot of heavy lifting. Many – including, unfortunately, the writer of the liner notes – mistake this austerity as "cerebral," one of my least-favorite adjectives. It certainly doesn't wallow in sentiment, and it does take brains to write it. To me, however, one more accurately calls it "intense." Like a Blake lyric, it speaks to more than it says.
Holst's penchant for paring down occurs throughout his career. He very seldom exuberantly throws off a shower of notes. We see this in the first of the 2 Psalms (Psalm 86), from 1912. Very often, emotional points are scored from a single tone or an unaccompanied single line. The second, Psalm 148, comes across as a contrapuntal extravaganza, as in the finale, the sturdy Lutheran hymn-tune moves against itself at various speeds, evoking a chorus of praise from all creation.
The Evening Watch (1924), a dialogue between Body and Soul with a text by Metaphysical poet Henry Vaughan, seems miles ahead if we compare it to the previous work. It plays with quartal harmonies (harmonies built on fourths, rather than the standard thirds), I suspect before Hindemith made them a permanent part of his toolkit. The fourths emotionally distance the text even more than usual for Holst, but it remains a noble, gorgeous piece. Imogen Holst, the composer's daughter and chief advocate, thought this one of his greatest works. It's hard to argue with her.
The Nunc dimittis of 1915 seems caught between Holst's mature style and the clear influence of Stanford. This is the first time I've heard it, and I wouldn't be surprised if Imogen Holst had done her best to keep it under wraps, as she hadn't done with Holst's very early and very Stanfordian Ave Maria, for 8-part women's choir. It comes down to how well it's done. The Ave Maria, as good as any Stanford, seems all of a piece, while the Nunc dimittis moves uneasily from one style to another.
The 7 Partsongs for women and strings and the 6 Choruses for men and strings appeared roughly five years apart. The 6 Choruses were among Holst's last works. The women sing texts by Robert Bridges, a favorite poet of Holst and a friend (he also provided the text to the Choral Fantasia), and every one of Holst's settings treads firmly in the territory of pure gorgeous. Even the liner-note writer concedes their "spontaneity that readily communicates itself." And yet, the severe economy and the "cerebral" counterpoint remain. My favorites of the seven include "When first we met," a villanelle whose echoes Holst picks up as canon and imitative counterpoint. It's something that goes straight to the heart. The finale, "Assemble all ye maidens," the longest of the set by far, takes a dramatic approach to a poem describing a lady who died for love. Yet, "dramatic" for Holst means something different than for, say, Wagner. It hearkens back in its feel to the chamber opera Savitri, where the composer limns the situation in direct, efficient, no-fat strokes.
The 6 Choruses use medieval texts translated by Helen Waddell. The numbers divide into sacred and secular, and one notes throughout some of Holst's favorite techniques – ostinato, chaconne-like bass, odd time signatures (7/4, 5/4 divided as 3+2 and 2+3), lines of rising and falling scales. The austerity of means is a given, but the emotion paradoxically ranges widely and with great subtlety. One finds a lament for humankind's complicity in the death of Christ, the confidence of the Church, a plea to love "the deceiver," and a celebration of strong drink, among other things. As a whole, the work proceeds vigorously and with great assurance. Again, the writer of the liner notes raises his usual objection. I have no idea what he's talking about.
The performances, though good, could be better. I compare them with Imogen Holst's series of her father's choral music for Argo, way back when. Wetton's ensemble is rhythmically good and knows what it sings about. The main problem is one of intonation. Chords are seldom really in tune, with some sections sharp and others flat. This plagues the soloists as well. I would go with Hickox's 2-CD set on Chandos or Imogen on Decca. Unfortunately, you don't get the 6 Choruses, and this is the best version currently available, although Imogen generates more excitement. I wish Decca would release the entire Imogen Holst series. Yeah, that'll happen.
Copyright © 2007, Steve Schwartz