Related Links
Recommended Links

Site News
CD Review
Lennox Berkeley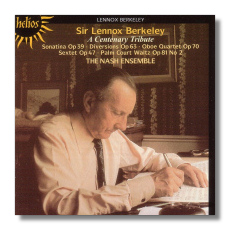 Centenary Tribute
Sonatina for Piano Duet, Op. 39
Diversions for Oboe, Clarinet, Bassoon, Horn & String Quartet, Op. 63
Sextet for Clarinet, Horn & String Quartet, Op. 47
Quartet for Oboe, Violin, Viola & Cello, Op. 70
Palm Court Waltz for Piano Duet, Op. 81 #2
The Nash Ensemble
Hyperion Helios CDH55135 62m DDD
This well-filled Helios disc offers an interesting compilation of works by the late lamented Lennox Berkeley. The Nash Ensemble can always be counted on to give fine, honest versions of such intriguing repertoire.
The Sonatina is well played by Ian Brown and Kathryn Stott whilst the aptly named 'Diversions' create an easygoing atmosphere that is extremely pleasant to listen to. I also enjoyed the Sextet and the Quartet with the former full of lovely work for the horn.
As normal, Hyperion's recording is excellent and very clear whilst the presentation is replete with important notes. At this price, one should not hesitate, especially if you are a lover of British late romantic music.
Copyright © 2003, Gerald Fenech