Related Links
Recommended Links

Site News
CD Review
Xaver Scharwenka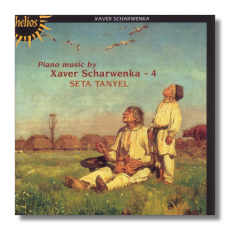 Piano Music - Volume 4
Four Polish Dances, Op. 47
Zwei Klavierstücke, Op. 65
Six Waltzes Op. 28
Variations on a Theme By C.H., Op. 57
Drei Klavierstücke, Op. 86
Zwei Erzahlungen am Klavier (Legends) Op. 5
Seta Tanyel, piano
Hyperion Helios CDH55134 72m DDD
Seta Tanyel's recordings of Scharwenka's piano music are happily being resurrected by the Helios label after their long period of unavailability since the demise of Collins Classics. This fourth volume contains some fine overlooked gems especially the Op. 57 Variations.
Having already waxed lyrical on the various works presented in this past series, I can only commend more beautiful music. Scharwenka was definitely one of the finest Polish composers of his age and his piano music is definitely a joy. The Four Polish Dances are brimful with alert character and beauty whilst the two piano pieces are delightful in their raucous melodies.
Scharwenka emulates his great compatriot Chopin in the wonderful Six Waltzes whilst the glorious Variations on a Theme by C.H. Are also brilliantly done by Tanyel who understands the mood and nuances of the music. Finally we have another three pieces and two Legends which take us into the world of dreams. At this price, all lovers of piano music should grab this wonderful collection together with the first three volumes already issued beforehand.
Copyright © 2003, Gerald Fenech