Related Links
Recommended Links

Site News
CD Review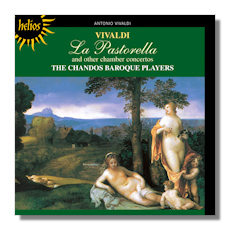 'La Pastorella' and other Chamber Concertos
Concerto in G minor, RV 105
Concerto in D Major, RV 95 "La Pastorella"
Concerto in G minor, RV 107
Concerto in C Major, RV 87
Trio Sonata in A minor, RV 86
Concerto in D Major, RV 94
The Chandos Baroque Players
Hyperion Helios CDH55102 58m DDD
This is a delightful disc bringing together some of the quieter moments of Vivaldi's massive output for the chamber concerto genre.
The most famous work here is obviously the much vaunted 'La pastorella' with some delightful contributions from the young Rachel Beckett on the recorder. A Trio Sonata in A minor and a sprightly Triple Concerto for recorder, oboe and bassoon are also interesting and entertaining.
All in all this is a self recommending disc that has many virtues, not least splendid sound and an enthusiastic contribution from the Chandos Baroque Players. Helios continues to be an important budget label providing quality at outstanding value for money.
Copyright © 2003, Gerald Fenech