Related Links
Recommended Links

Site News
CD Review
Thomas Tomkins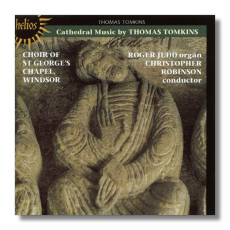 Cathedral Music
O sing unto the Lord a new song
Then David mourned
My beloved spake, and said unto me
Above the stars my Saviour dwells
Magnificat from the Third Service
Nunc dimittis from the Third Service
Glory be to God on high
Almighty God, the fountain of all wisdom
When David heard
My shepherd is the living Lord
Sing unto God
Behold, the hour cometh
O God, the proud are risen against me
Roger Judd, organ
Choir of St. George's Chapel, Windsor Castle/Christopher Robinson
Hyperion Helios CDH55066 63m DDD
Tomkins is a rather neglected figure in the British choral firmament but this well planned disc demonstrates his prowess and varied talents on the vocal front. The pieces are generally short, reflective odes with an emphasis on counterpoint and halo-like voices that are so characteristic of British Renaissance church music.
Amongst the best works, one may include the lovely Magnificat from the Third Service, "Almighty God, the fountain of all wisdom", "Sing unto God" and "When David heard". Perhaps the vocal line is not always as memorable as the more familiar Byrd, Weelkes or Taverner but Tomkins demonstrates secure knowledge of composition and a penchant for dramatic tunes.
The famous Choir of St. George's Chapel sing with the utmost conviction and determination and they are sensitively conducted by Christopher Robinson and the organist, Roger Judd. The project is sensitively recorded and at the bargain basement Helios price, one cannot really hesitate.
Copyright © 2001, Gerald Fenech