CD Review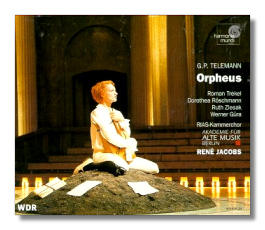 Orpheus, oder Dir wunderbare Beständigkeit der Liebe
Cast

Orasia - Dorothea Röschmann (soprano)
Orpheus - Roman Trekel ((baritone)
Eurydice - Ruth Ziesak (soprano)
Ismene - Maria Cristina Kiehr (soprano)
Eumenides - Werner Güra (tenor)
Cephisa/Priestess - Isabelle Poulenard (soprano)
Pluto - Hanno Müller-Brachmann (bass)
Ascalax - Axel Köhler (counter-tenor)

RIAS Chamber Choir
Berlin Academy for Ancient Music/René Jacob
Recorded October, 1996
Harmonia Mundi HMX2901618/9 2CDs
The story of Orpheus and Euridice, embodying and epitomizing the powers of love and of music, has attracted many composers, including Haydn, Liszt, Offenbach, Milhaud, and Stravinsky, with Monteverdi's L'Orfeo and Gluck's Orfeo ed Euridice being the best-known works on this theme. It is not surprising that one of Telemann's many operas deals with the subject, but this particular piece had been lost and was rediscovered only about 20 years ago, with a complete libretto and a score missing only a few numbers (replaced by arias from other Telemann works on this disc).
The libretto, by Michel du Boullay, had earlier been set to music by Louis Lully, son of the better-known Jean-Baptiste. Subtitled "the Marvelous Constancy of Love," the legend is presented in a new form by adding the character of Orasia, the widowed queen of Thrace, who is in love with Orpheus, in her jealousy has Euridice killed by the bite of an adder, and having lost Orpheus, then has him torn apart by her Bacchantes. Telemann also added the figures of Orpheus' friend Eurimedes and the nymph Cephisa, allowing him to provide them with a brief, flirtatious diverissement in Act I. In other respects, the plot follows the traditional story. The opera was first performed in Hamburg in 1726, was revived in Karlsruhe in 1728, and took its final form back in Hamburg in 1736.
Hamburg, where Telemann was director of the Opera (among other civic appointments) from 1722 to 1738, was a cosmopolitan center, and the music composed and played there reflected all the current fashions imported from Italy and France as well as the contributions of native Germans. While the text and a majority of the arias of Orpheus are in German, many other arias are in Italian (mostly where a more brilliant and florid effect is called for), and some – usually associated with ballet interludes – are in French. The result is a loosely-constructed hodge-podge, obviously designed to please the sophisticated tastes of the audience without requiring them to take the story very seriously or become deeply involved in the fate of its characters. As usual in Baroque opera, the action moves only in the recitatives, and the set-piece arias are in conventional da capo or abab form. The scoring is varied and ingenious and the vocal material contains some nice tunes and effective expressions of mood in a variety of styles; Orpheus' lament toward the end of Act III is particularly lovely and quite moving.
Werner Güra as Eumenides and Hanno Müller-Brachmann as Pluto both sing well, with clear and flexible voices that are effectively deployed; Dorothea Röschmann in the central role of Orasia is expressive, but her voice production is uneven and tends to become squawky under pressure, and the rest of the cast is adequate but vocally undistinguished. René Jacobs keeps everything moving along nicely, though the orchestra sounds scrawny and is not always accurate in intonation. Telemann lacked the genius of Monteverdi and Gluck; there is nothing here like the intensity of emotion and sharpness of characterization – let alone the sustained musical inspiration – in their versions of the story. But this Orpheus is an interesting example of Baroque eclecticism, and sufficiently entertaining to be worth hearing, at least once.
Copyright © 1998, Alexander J. Morin