Related Links
Recommended Links

Site News
CD Review
Koussevitzky with the Boston Symphony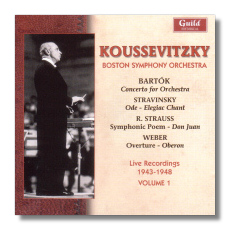 Live Recordings 1943-1948
Boston Symphony Orchestra/Serge Koussevitzky
Guild GHCD2321 75m AAD Rec: 1943-48
This is a fine memorial to the great Serge Koussevitzky with a series of live recordings that cover most of the ground for which he was famous for. A vital addition to the catalogue is this first recording of Stravinsky's 'Ode' which is a unique occasion, thrillingly preserved for posterity.
Koussevitzky conducts 'Don Juan' with suitable fire and passion, especially the opening which sets the stage for a hot blooded interpretation, one of the best around, at least in my humble opinion. The same goes for Bartók's virtuosic Concerto for Orchestra which blazes along in terrific passion, comparable to similar luminaries as Eduard van Beinum on Decca or Antál Doráti on Mercury. The programme concludes with a delightful 'Oberon' overture demonstrating Koussevitzky's credentials in the romantic repertoire.
The disc is suitably annotated, beautifully presented and excellently remastered so I won't hesitate recommending it to any collector who does not have these essential recordings of this legend of the baton. The cover states this as Volume 1 so I am eagerly awaiting further recordings from this source.
Copyright © 2007, Gerald Fenech