CD Review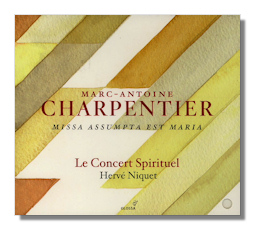 Mass "Missa Assumpta est Maria", H.11
Domine salvum fac regem, H.303
Domine salvum fac regem, H.291
Motet "À voix seule", H.361
Symphony pour un reposoir, H.508
Motet "O salutaris Hostia", H.262
Le Concert Spirituel/Hervé Niquet
Glossa GCD921617
This is extremely beautiful music sung with great style and persuasion by Le Concert Spirituel under their regular conductor/director, Hervé Niquet. For insight and authority the recording on Harmonia Mundi (501298) by Les Arts Florissants under Christie should also be considered. Le Concert Spirituel, though, has produced a plain, effective and imaginative account which can hold its own without a doubt. Less formal and with a more spontaneous feel to them than Christie's, Niquet's readings bring an intriguing mix of undemonstrative grandeur always consciously tempered with empathy for the personal enthusiasm which a worshipper at the end of the seventeenth century would have felt. Not for a moment does this combination, though, lack clarity. Such – together with the performers' technical accomplishment – is the great merit of this recording.
Charpentier wrote 11 masses, of which Assumpta est Maria is the last, written around 1700. It's by far the most striking, most sublime and, perhaps strangely, most relaxed. The theatrical compositions for which Charpentier is really better known, David et Jonathas and Médée, were behind him. Considering that his earliest such works had been written 30 years earlier, in the 1670s, the Assumpta est Maria Mass thus shows great maturity and detachment.
It's not easy to point to any one aspect of the writing which illustrates this maturity. Perhaps it's in the tempi… more restrained, less hectic and driven. Or in the delicate and effective balance between choral and solo singing… no need to make an extrovert impact. Or indeed in the balance between vocal and instrumental passages… the Mass has a more reflective tinge to it. In any case, the performers on this Glossa CD are completely in accord with the flavor of adoration and veneration which Charpentier achieves from start to end of the work. They have an admirable blend of energy and, one almost says, "acceptance" (a step down from "resignation": listen to the Agnus Dei [tr.30], for example). But a more accurate way of describing this would be that the performers are singly and collectively aware of the sublime.
The nicely-produced booklet that comes with the CD guides us through some of the issues surrounding sources and possible early performances. It seems likely that Charpentier repurposed at least some of the sections of the Mass for multiple performances. From the work of Catherine Cessac, we know it was performed on August 15th 1702 (the Marian feast day in the Roman Catholic church). But the two sources are sufficiently different for Niquet to have had to make a choice as to which to use: that for a larger, grander, ensemble was chosen, which nevertheless authorizes some amendments that are also employed here.
There are other choices which Niquet has made which deserve mentioning: the inclusion of three motets at various points integrated with the body of the Mass itself: À voix seule, H.361, before the Credo; O salutaris Hostia, H.262 just after the Sanctus; and Domine salvum fac regem, first H.303 then H.291 after the Agnus Dei. Such inclusions as these were envisaged by the composer with riders like, "… if there is time". Although decisions about exactly which of Charpentier's compositions to include, and where, remain Niquet's own. Indeed, the vocal portions of the Mass are also interspersed with instrumental Sinfonies. In all cases the sequence works very well.
Having laid out his sonic and interpretative palettes as thoroughly as he obviously has, Niquet then proceeded to handle multiple combinations of instruments, timbres and paces at which the at times almost overwhelmingly sublime music should be performed. It was a challenge greater than it seems. At times a balance is appropriate. At times the predominance of one aspect of the music over the others (the soloist at the start of the Credo, for example [tr.13]) was necessary. At others things (seem to) have been left a little more to chance, letting the momentum of the music prevail (as in the Et resurrexit [tr.18], for example).
In all cases, Niquet has produced an account which – above all – honors and celebrates the unique contribution which Charpentier made to the music of his time, to the later Baroque, and indeed to music which followed. If such repertoire is new to you, you are looking for a fresh and unique sound world, and/or want a top-notch recording of one of Charpentier's most satisfying works, then this excellent release must not be missed.
Copyright © 2009, Mark Sealey