Related Links
Recommended Links

Site News
CD Review
Everest Reisues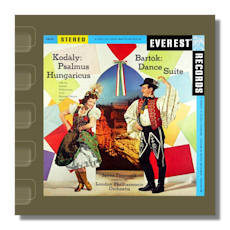 * Raymond Nilsson, tenor
London Philharmonic Choir
London Philharmonic Orchestra/János Ferencsik
Everest Records SDBR-3022 54:26
This Psalmus Hungaricus was last seen coupled with a major work; Bartók's Concerto for Orchestra. This time around, we get the original LP coupling in the form of the Dance Suite for Orchestra. At any rate, it's still Bartók, and Countdown Media Group has ensured that the aforementioned Concerto – conducted by Stokowski, no less – is also available. If you have the last Everest issue, go ahead and keep it, but to my knowledge the Suite is new to CD, and even if it isn't, it's probably near impossible to find. At the low asking price, it might even be worth having both.
Ferencsik may not be a household name, but he was a very talented conductor and his affinity for both works is never in doubt. The rarely heard Psalmus Hungaricus is presented here in an even rarer English translation by Edward Joseph Dent; it's thankfully convincing and does not mess with the actual music in any way. The London Philharmonic forces sing and play passionately, making this a welcome addition to any choral music lovers' collection. Tenor Raymond Nilsson is assured and confident with the text, and Ferencsik directs with equal zest. A winner then, in clear sound and with the texts included to boot.
The coupling is also somewhat rare; the Dance Suite for Orchestra is unlikely to top anyone's list of favorite Bartók works. It's an engaging suite all the same, powerfully rendered by the London Philharmonic players. The sound is a little less impressive this time around, but you can audibly detect an intensity and focus not always present in other recordings by this orchestra, then or now. Credit has to go to Ferencsik, who demands not only accuracy, but a real sense of flow throughout each piece. The result is by turns exciting and very beautiful, and it's great to welcome the album back in its entirety. Short playing times again, but like I said, it's the original LP. Available from Amazon.com and the iTunes library, anyone with an interest in Hungarian music should snap this up without delay. A very pleasant surprise.
Copyright © 2014, Brian Wigman