CD Review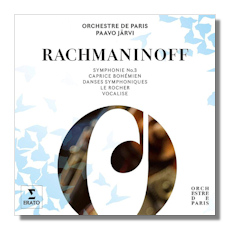 Symphony #3 in A minor, Op. 44
Symphonic Dances, Op. 45
The Rock, Op. 7
Caprice bohémien, Op. 12
Vocalise for Orchestra, Op. 34
Orchestre de Paris/Paavo Järvi
Erato 0825646195794 2CDs
This two-disc Rachmaninoff selection from Paavo Järvi and the Orchestre de Paris was culled from concerts at the now abandoned Paris Salle Pleyel in 2011 and 2013. As prolific a conductor and recording artist as his father Neeme, Paavo Järvi was just recently selected Gramophone artist of the year. Working simultaneously with several ensembles across the globe, the Estonian-born conductor was praised by the magazine among other things for his flair for matching repertoire to performers. Bizarrely enough, this is exactly what seems wrong with this Rachmaninoff and I am not convinced that the Orchestre de Paris, no matter how excellent a formation, is your safest bet for this Russian composer.
The Third Symphony in particular, taken from the most recent concerts, is disappointing. Järvi's coolly analytical approach characteristically avoids all excesses but also sucks the passion out of the music. Slow-paced, timid and unexciting, the orchestra wallows through the score without much interest, yet also quite simply lacks the color to do the music full justice. One only has to hear Vladimir Ashkenazy with the Concertgebouw, Mariss Jansons with the St. Petersburg Philharmonic, or the composer himself in his famous Philadelphia recording from 1939, to realize how brilliantly rich Rachmaninoff's orchestration is, not to mention what a moving trip he proposes with his last symphony.
The Symphonic Dances recorded in 2011 come off better, especially in the outer movements, offering plenty of orchestral elegance, beautiful woodwinds, and also some well-judged climaxes. However, Järvi's mannered phrasing in the Andante con moto, allowing too many drops in tension, prevents a wholehearted recommendation. Perhaps this worked in the concert hall, but on disc it grows old quickly.
The fillers, the youthful compositions The Rock and the Capriccio on Gypsy Themes (Caprice bohémien), are interesting, even if obviously you won't be purchasing this release for those titles. To my mind it remains essentially chilly, unidiomatic Rachmaninoff, closer to Montparnasse than Ivanovka, but the transparent sound and incisive style shed a different light upon his earliest attempts at orchestration.
These are live recordings but applause and indeed all traces of the presence of an audience have been edited. The recording is crisp and dynamic. In short, this is a release only for those Rachmaninoff admirers who want it all.
Copyright © 2015, Marc Haegeman