CD Review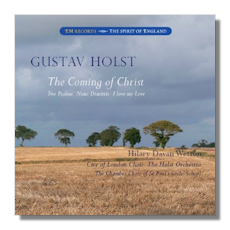 Sacred Works
The Coming of Christ, H170
Nunc Dimittis, H 127
I love my Love, H 136
Two Psalms #86 & 148, H 117
Robert Hardy, reciter
City of London Choir
The Chamber Choir of St. Paul's Girls' School
The Holst Orchestra/Hilary Davan Wetton
English Music Records EMR-CD-004 56min
Summary for the Busy Executive: Rarities.
It probably struck Gustav Holst as at least odd that the public would make The Planets, written for extremely large orchestra, his biggest hit. After all, he considered himself primarily a choral composer, having absorbed the influence of his teachers, Parry and Stanford. Furthermore, Holst, like his friend Ralph Vaughan Williams, had a literary and philosophical turn of mind. Great literature and big ideas attracted him, and thus texts drew his musical focus. Even The Planets has a human cosmology behind it. Here, we have a program that encompasses some of Holst's interests. The two psalms speak to his attraction to old hymnody, "I love my love" to English folk song, and The Coming of Christ to his regard for amateurs and students. The Nunc dimittis illustrates his eagerness to expand his idiom into Modernist areas. In many ways, Holst's greatest achievement was indeed his idiom – an amalgam of many sources that transmuted into something absolutely individual. Just as with van Gogh, there has never been another Gustav Holst.
Those who know only The Planets will find themselves in for a surprise, I hope a pleasant one. After he proved his mastery of the large post-Romantic orchestra, Holst went back to what seems to me his natural bent: a pared-down music, where each note carries weight. There's no frill, no orchestral "swirlies," just clear lines of chord and counterpoint, beautifully exemplified by the 2 Psalms, both written pre-Planets. Psalm 148, set to the chorale tune "Lasst uns erfreuen" (best known in English as "Ye watchers and ye holy ones"), sets spinning whirligigs of counterpoint. Psalm 86 (as far as I know, an original Holst tune, although learning of another source wouldn't surprise me) does superficially less and strikes deeper. The tune itself is as hypnotic as a chant. Much of the setting involves the opposition of unison lines and long pedals or static chords with perfect chorale harmonization. The anguish of the prayer for God's help is never far away, in the stinging dissonances that interrupt pure modality and in the distinctly non-Edwardian climax.
The Nunc dimittis unfortunately falls between two stools: a new idiom that Holst would perfect in the Twenties and Georgian choral writing. It begins magnificently, with the choir, voice by voice, building up a chord as new as a skyscraper, but the music almost immediately subsides into the musical equivalent of Pre-Raphaelism. You can feel Holst trying to break out of the conventional restraints with unexpected modulations and stronger rhythms, but none of this really measures up to the opening. The piece lacks conviction. Compared to either of the 2 Psalms, it shows little of the composer's musical personality.
"I love my love," on the other hand, is a masterpiece. Holst takes a folksong with strophic structure (the same tune for every verse) and, bit by bit, turns it into a miniature drama of "a maid in Bedlam" saved by her true love. We begin with a harmonic treatment of perfect chords, move into a treble accompaniment to the tune on the bottom, and gradually get swept up in the race to the rescue. The finish calms everything down as the singers tell us of the lovers' happy marriage. Every note of this gem seems to find its perfect place.
The big news on the disc is the recording of The Coming of Christ. I had only read of this in Imogen Holst's catalogue of her father's work. Comparing it to something like Holst's own Hymn of Jesus would prove, I believe, disappointing. It originated in a project to put on a modern mystery play along the lines of The Second Shepherds' Play. It had a minor success in its first run. John Masefield did the text. The verse is able but lacks interesting content. The most successful part of it for me is the adoration of the shepherds, where the diction loses some of its smoothness. Holst produced a good score suited to amateur singers, but it's got nothing on a work like Britten's Noye's Fludde or Saint Nicolas, where the amateurs get to play and sing music that doesn't condescend or show less than the composer's best. However, nowhere in The Coming of Christ does Holst really catch fire.
Hilary Davan Wetton has made a name for himself as a Holstian, recording much of the same program for Hyperion as well as other Holst choral music. In general, the choirs he uses have kept these discs from reaching top level. This disc doesn't break the pattern. The City of London Choir sounds like an amateur group that's been very well trained. They can sustain long phrases, their diction is clear, they can crescendo and (more importantly) diminuendo. However, the tone lacks real brightness. The tenors in particular sound a bit asthmatic, and they, like the sopranos, often fail to hit the pitch at the top end of their range. On the other hand, general intonation remains pretty stable. They do best in the Psalms and worst in the Nunc dimittis, a rather coarse performance. "I love my love" gets a fair treatment, although one can easily point to more stylish ones. Part of the problem comes from the fact that a large choir attempts a score written for a small ensemble. The Coming of Christ fits the Londoners best, where their sound becomes an asset – community singers putting on a community play, which after all is what the mystery plays were. Wetton beautifully shapes both "I love my love" and Psalm 86, while Nunc dimittis comes across as a shapeless blob, not entirely Wetton's fault. At any rate, he doesn't transcend the piece's limitations.
Wetton's real disadvantage comes when one compares his work to Imogen Holst's classic recordings of her father's music on EMI and London/Decca, which better Wetton both interpretively and in the caliber of the singing and playing. You won't get The Coming of Christ, and unless you're a Holst fanatic (like me), you might not miss it.
Copyright © 2012, Steve Schwartz