CD Review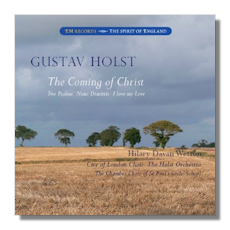 Sacred Works
The Coming of Christ, H170
Nunc Dimittis, H 127
I love my Love, H 136
Two Psalms #86 & 148, H 117
Robert Hardy, reciter
City of London Choir
The Chamber Choir of St. Paul's Girls' School
The Holst Orchestra/Hilary Davan Wetton
English Music Records EMR-CD-004 56min
Gustav Holst (1874-1934) is one of those composers associated with just one work, in this case, the famous "Planets" Suite. But during a career spanning almost forty years he wrote a considerable corpus of works ranging from solo song and short piano pieces to choral symphonies and opera. Mystical, often austere, brilliantly orchestrated with exquisite economy of instrumentation, his compositions merge clarity of vision with hauntingly beautiful and sometimes desolate lyricism.
A sadly neglected genre of Holst's output is his sacred music, which, apart from the sparsely performed "Hymn of Jesus", is hardly ever heard. Hopefully, this quite magnificent disc will start putting the record straight. In 1927, Holst received a rather unusual commission from his friend George Bell, then Dean of Canterbury Cathedral, to write a Mystery Play based on the medieval tradition of the religious drama.
The result of all this was "The Coming of Christ", a piece full of striking moments composed to a libretto by John Masefield. The play features a heavenly host, four angels, the Spirit of Christ and the three Kings and Shepherds. The story opens with the angels announcing the Spirit of Christ's intention to incarnate and save mankind. Christ's Spirit and the angels discuss this difficult situation, yet He remains resolute to complete this mission despite the suffering path ahead. Then enter the three Kings lamenting their sadness and fear of death in spite of their tremendous wealth, power and knowledge. They are soon confronted by the shepherds, who in turn debate about government and religion, citing the latter as a tool to rule and control people. Just then, an angel proclaims Christ's birth. The final scene sees everyone bringing gifts and adoration at the manger, and the procession of a litter bearing Mary and Jesus to the sung praises and worship of all. The music comprises seven simple yet effective and tuneful songs that capture the profound essence of the story with telling detail. Innovative and fresh, the work is laid out in limpid and clear sounds, but a reverential approach is always at the core of this remarkable Holst creation. Premiered in 1928 on Whitsun, and in the venue for which it was composed, "The Coming of Christ" did not go down well with the purists, but the public in general embraced it with open arms, and performances attracted large audiences. Reports of the day record attendances that were around the 6000 mark. It is totally baffling how such a seminal work by so eminent a composer could have been left to languish for 82 years, so this recording following the 2010 revival at the English Music Festival is more than timely.
The issue also includes four short choral pieces that highlight Holst's gift of communicating a strong message with the most unspectacular of means. Uplifting performances and excellent sound quality complete a gorgeous and invaluable addition to the Holst discography. This is one of my favourite discs of the year.
Copyright © 2012, Gerald Fenech