Related Links
Recommended Links

Site News
DVD Review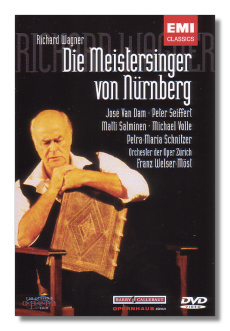 Die Meistersinger von Nürnberg
José van Dam, Peter Seiffert
Petra-Maria Schnitzer, Matti Salminen
Chorus of the Zürich Opera House
Orchestra of the Zürich Opera/Franz Welser-Möst
EMI DVD 599736-9 2DVDs 267m
In a world where tears and woe are the order of the day, this celebration of joy is a most welcome event. Apart from its political overtones, 'Die Meistersinger' is above all, an experience of love and happiness, which, if interpreted in all its Wagnerian spirit, can become infectious. And this performance is exactly that.
As in 'Tannhäuser' from the same Zürich Opera, Peter Seifert is again in one of the principal roles and he triumphs once more in a rendition of Walther so beautiful that it seems that this role was created only yesterday. The other main singers all give their weight in their respective manner, but José van Dam (Sachs) and Petra-Maria Schnitzer (Eva) shine like stars in a firmament of bliss.
I must admit I was taken in absolutely by Michael Volle (Beckmesser). This innocently roguish interpretation is at the same time pensive and delightful. Matti Salminen (Pogner) and Brigitte Pinter (Magdalene) are both impressive though not wholly commanding.
It is also quite clear that this mammoth opera was very well-rehearsed. Testimony to this is the shimmering orchestral sound Welser-Möst produces from the Zürich Opera Ensemble. This young conductor can now be considered to be a true Wagnerian and hopefully he will set down more Wagner operas on DVD in the future. Sets and costumes are simple yet adequate but this should not detract you from acquiring this competitively priced package that offers an outstanding performance.
Copyright © 2005, Gerald Fenech