Related Links
Recommended Links

Site News
DVD Review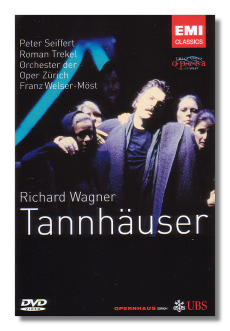 Tannhäuser
Hermann, Landgraf von Thüringen – Alfred Muff
Tannhäuser – Peter Seifert
Wolfram von Eschenbach – Roman Trekel
Walther von der Vogelweide – Jonas Kaufmann
Biterolf – Rolf Haunstein
Heinrich der Schreiber – Martin Zysset
Reinmar von Zweter – Guido Götzen
Elisabeth – Solveig Kungelbraun
Venus – Isabelle Kabatu
Chorus of the Zürich Opera House
Orchestra of the Zürich Opera/Franz Welser-Möst
EMI DVD 599733-9 2DVDs 187m PAL/Region 2
The core and secret of this Wagner masterpiece is making the audience experience the torment that the protagonist goes through until his purge in Elizabeth's love and his final expiation and of course, forgiveness. Tannhäuser's anguished soul and his final redemption may be our own experience too.
And this is what Peter Seifert manages to convey in this truly momentous interpretation. He does not only sing Tannhäuser but becomes the man himself. This DVD is truly worth having for Seifert's performance alone. Still, there are many other pros going for it, especially Solveig Kungelbraun's mellifluous Elizabeth and Roman Trekel's eloquent and moving Wolfram.
Franz Welser-Möst handles Wagner's score with mastery and panache, bringing out all the emotions whether they be passionate or reflective in their true light. Although no houses are set on fire visually, this aspect of the production is of secondary importance, as this opera, as with most of Wagner's works, seeks to explore man's great quest for happiness through the paths of illusion and doubt, finally achieving it through death. And in this regard, singers et al are completely successful making this a 'Tannhäuser' to live and relish.
Copyright © 2007, Gerald Fenech