CD Review
EMI Encore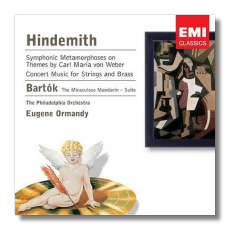 Symphonic Metamorphosis of Themes by Carl Maria von Weber
Concert Music for Strings and Brass, Op. 50
Béla Bartók: The Miraculous Mandarin: Suite, Op. 19
Philadelphia Orchestra/Eugene Ormandy
EMI Classics 5 86095 2 ADD 58:23

Quartet for the End of Time
Theme and Variations for Violin and Piano
Yvonne Loriod, piano
Christoph Poppen, violin
Manuel Fischer-Dieskau, cello
Wolfgang Meyer, clarinet
EMI Classics 5 75629 2 DDD 58:57
These are two new reissues in EMI's budget "Encore" line. There are only brief notes about the music and the performers – less space than is devoted to "minis" of other Encore releases EMI presumably would like you to buy.
The Ormandy CD was recorded in1978 in Philadelphia's "Old Met." The conductor was in his late 70s and would retire two years later. His earlier Columbia recordings had more energy. The music-making here doesn't feel labored, exactly, but it is a little careful. On the other hand, Ormandy was one of the most consistent conductors of the past century, and I can't think of a single recording of his which is genuinely disappointing. There are more exciting recordings of all three of these works. There's a reason to consider this CD, however, apart from its price, and that is the sound of the Philadelphia Orchestra itself, which was captured beautifully during these sessions by engineer John Kurlander. Famous for its strings, the Philadelphia brass also get to shine (no pun intended) in Hindemith's Concert Music. LP surfaces in the late 1970s made these recordings difficult to appreciate. Transferred to CD, however, we can hear how beautiful the Philadelphians sound, and how impressively they were captured by (at the time) Angel – Columbia was not always so lucky.
The name "Fischer-Dieskau" is prominent on the cover of the Messiaen disc. The Fischer-Dieskau in question is not Dietrich, however, but rather Manuel – a cellist, and (I think) the famous baritone's son. (Dietrich Fischer-Dieskau's musical family also includes his wife, the underrated Hungarian-born soprano Julia Varady.) And speaking of wives, pianist Yvonne Loriod was Olivier Messiaen's second wife, and she became associated with his music, playing it everywhere – by herself and with other musicians. On this recording, made in 1990 (in the presence of the composer), she is something of a grande dame surrounded by three youthful companions. Unsurprisingly, her contribution is perfect – sensitive and yet unsentimental, and age has hardly compromised her ability to get her fingers around Messiaen's difficult writing. Poppen's nervous vibrato adds tension to the music, but perhaps it is too much for "Louange à L'Immortalité de Jésus." Fischer-Dieskau is capable, but not particularly memorable, but Meyer is a first-class clarinetist, who, like Poppen, is willing to go to the extremes suggested by this work, written, as it was, in extremis. Loriod and Poppen make a very good case for the Theme and Variations, a work dating from the composer's mid 20s in which the influence of Debussy is obvious. Again, as with the other CD, the engineering is a definite plus.
Copyright © 2005, Raymond Tuttle