Related Links
Recommended Links

Site News
CD Review
Cherubini / Wolf Ferrari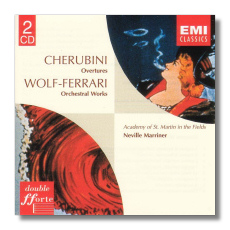 Overtures
Luigi Cherubini:
Overture "Eliza"
Overture "Médea"
Overture "L'Hotelerie portugaise"
Overture "Le deux Journees"
Overture "Anacreon"
Overture "Faniska"
Overture "Les Abencerages"
Concert Overture
Ermanno Wolf-Ferrari:
Overture and Intermezzo "Il segreto di Susanna"
Prélude and Intermezzo "I Quattro rusteghi"
Overture "La dama boba"
Intermezzo and Ritornello "Il campiello"
Overture and Intermezzo "L'amore medico"
Suite "I gioelli della Madonna"
Academy of St. Martin-in-the-Fields/Neville Marriner
EMI Double Forte 575160-2 122m DDD
This intriguing Forte reissue is simply a straight coupling of two former full price discs that received good press when they were first issued. Marriner excels in this sort of repertoire that allows ample space for colour and intrinsic beauty especially in the loving and melodious Wolf-Ferrari items.
The Cherubini overtures are also vitally infectious with 'Médea' and 'Faniska' amongst the most impressively constructed. The recordings have come out beautifully and the attractive price is surely a turn on for collectors who are new to this lovely music.
Copyright © 2002, Gerald Fenech