CD Review
Nino Rota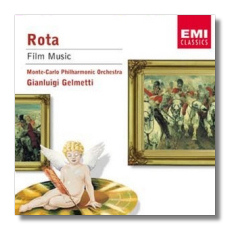 Film Music
Guerra e pace
Il gattopardo
La strada
Waterloo
Monte-Carlo Philharmonic Orchestra/Gianluigi Gelmetti
EMI Classics 574987-2 DDD 59:32
Released in the early 1990s at full price, this disc is now one of the more recent releases in EMI Classics' budget "Encore" series. (I just saw a copy of the original release selling online for $100; you do the math.)
Nino Rota is most famous for his film scores, particularly those for Federico Fellini, although he considered himself a classical composer – and he was a fine one – before everything else. It makes sense to give at least some of his music for film the full symphonic treatment, as Gelmetti and his orchestra have done here. There is plenty of spectacle in "Guerra e pace" (War and Peace) and "Waterloo," films directed by King Vidor and Sergei Bondarchuk, respectively, and the musicians bring it to life without allowing it to degenerate into bombast.
"Il gattopardo" (The Leopard), directed by Visconti, frequently turns up on compilations of this sort, and again, Gelmetti realizes its elegance. This is a score that Rota adapted from an earlier work – a projected symphony – and again, it responds to Gelmetti's full-throated conducting.
Rota wrote a ballet based on Fellini's film "La Strada," for which he had composed the score. It is a suite from the ballet, not the film, that is presented here, although Rota adapted material from the latter as he composed the former. In other words, the situation here is reversed 180 degrees from "Il gattopardo." This is the most human and intimate music on this CD. Rota's heart was warmed by the story of an itinerant circus troupe, and of the pathetic waif Gelsomina. The suite's seven sections follow the film closely, moving from the arrival of the troupe at a wedding, to the desolate end when Zampano, Gelsomina's husband, realizes the ruin created by his jealousy. Here, Gelmetti and the orchestra loosen up and relish the more popular idioms that Rota used to establish the ballet's (and film's) more modern setting.
Film music buffs will want more complete realizations of these scores, but the present CD is excellent and an economical purchase for more moderate types. The engineering is big and handsome, and the booklet notes – as usual for "Encore" releases – are sketchy.
Copyright © 2004, Raymond Tuttle