CD Review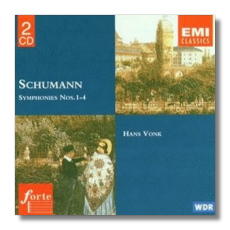 Symphonies
Symphony #1 "Spring", Op. 38 (1841)
Symphony #2 in C Major, Op. 61 (1841)
Symphony #3 "Rhenish" in E Flat Major, Op. 97 (1850)
Symphony #4 in D minor, Op. 120 (1853)
Kölner Rundfunk-Sinfonie-Orchester/Hans Vonk
EMI Forte 69370
I have to confess that Schumann has never been one of my favorite composers. Until this set arrived my collection consisted of #1 and 4 on DG with Bernstein conducting and #2 and 3, also on DG, with Rafael Kubelík. I also have the third with Giulini and fourth with Furtwängler (now if that can't spark some interest in Schumann nothing can). So, I approached this set almost as if it was new music (not having listened to any of the other recordings in some time.
I spent the first few days immersing myself in the music. Playing it whenever I could, no matter what I was doing. I began to get a feel for the music and then sat down for some closer study. I played Vonk's versions several times, and had read a review of the set in Gramophone that praised the release. I began to think that maybe I just didn't care for Schumann. These Vonk recordings sounded excellent. There were delicious moments and real force when asked for. Still, I wondered if it might be the performance that was lacking something.
Then I pulled out the Bernstein and Kubelík recordings. It doesn't take a rocket scientist to quickly discern a difference. Both of the older men produced a performance that had significantly more emotion in it. When listening to Kubelík's DG recording of the Rhenish, scherzo, I wrote, "You know that Kubelík is playing the same notes, but he's getting different music from them." It was in the early, immersion stage that hearing Kubelík's playing of this same movement made me re-think my opinion of Schumann. "Oh!" I thought, "Maybe Schumann is better than what I thought." Up until that moment I had rated Schumann as a second rate composer.
Let me try to pinpoint a couple examples of Kubelík's superiority. Right from the opening of the Rhenish Symphony the horn(s) seem to have a different tone to them, one that is longing. The second movement, scherzo, in Kubelík's hands seems to flow not unlike Die Moldau, like a river dancing. With Vonk my attention wanders more often than not. What is interesting is that while Kubelík sounds slower, it is actually Vonk who is. The reason for this is that Kubelík masters the ability to caress the music whilst keeping it intense. So, Kubelík has made me rethink this music. I am interested enough in this music that I am having sent to me the entire four Schumann Symphonies on the Sony label. You can get these on their "Essential Classics" series for around $16.00 for both discs.
Let me make one last attempt to put this in perspective. The Vonk set sounds excellent and there are wonderful moments, as I have said. The price is low and I don't think anyone will be disappointed in Vonk's interpretation nor in the recording. To be honest, however, there is more in the music than Vonk brings out.
As I mentioned, the writer in Gramophone praised this EMI release very highly and even compared it to the Sony Kubelík recordings. While I may respect a colleague's opinion, I do not have to agree with it. You may respond more positively to the EMI set than did I.
Copyright © 1997, Robert Stumpf II