Related Links
Recommended Links

Site News
CD Review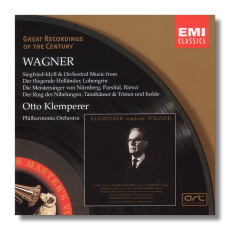 Rienzi – Overture
Tannhäuser: Overture and Prélude to Act III
Lohengrin: Prélude to Act 1 and 3
Die Meistersinger von Nürnberg: Prélude and Dance of the Apprentices, Entry of the Masters
Parsifal: Prélude to Act 1
Der fliegende Holländer: Overture
Das Rheingold: Entry of the Gods
Die Walküre: Ride of the Valkyries
Siegfried Idyll
Siegfried – Forest Murmurs
Götterdämmerung: Siegfried's Rhine Journey and Funeral March
Tristan und Isolde: Prélude and Liebestod
Philharmonia Orchestra/Otto Klemperer
EMI Great Recordings of the Century 67893 2CDs 158m DDD
At last, we can now enjoy the complete Klemperer oeuvre in relation to Wagner with this colossal two-disc set that is permeated with some of the finest 'bleeding chunks' ever composed. The notes mention a commemorative 75th birthday Wagner set which happens to be in my LP collection but that beautifully produced double LP edition did not contain almost 160 minutes worth of music that this newly remastered set does.
It would be slightly foolish to criticize Klemperer in such repertoire as even the demonic energy of Solti must yield to this singular traversal in the art of Wagnerian conducting. These were the Wagner recordings that I played time and time again in my youth and I could never stop! Just listen to the miraculous pacing in the 'Rienzi' overture, or indeed the tearful final peroration in 'The Flying Dutchman' and if your hairs don't stand at the back of your head, then you must be out of touch with great music!
But the inexhaustible treasure continues with the miraculous 'Lohengrin' excerpts, the Prélude to Act 1 is particularly magnificent with the Philharmonia strings on true top form throughout. Hearing the final 'Entry of the Gods' from 'Rheingold' makes one lament the loss of a Klemperer 'Ring' and the further confirmation of that sad loss is heard in the titanic Funeral March from 'Siegfried' or the irresistible momentum of 'The Ride of the Valkyries'. Although I am not in agreement with the merger of the 'Tristan' Prélude and Liebestod, no one can deny the effectiveness of Klemperer's artistic vision.
My only slight qualm with this outstanding set is the recording which does appear to be slightly grainy but that was always a defect of these 1960 Kingsway Hall sessions. Otherwise, this is a superb confirmation of the greatness of Wagner and his disciple, Klemperer. The giant may not have made many recordings when compared to other high fliers but the saying that quality is the winner over quantity definitely applies to the inspired Otto Klemperer.
Copyright © 2002, Gerald Fenech