Related Links
Recommended Links

Site News
CD Review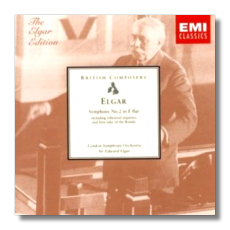 Symphony #2 in E Flat, Op. 63
Includes first take of the Rondo and rehearsal sequence for second take
London Symphony Orchestra/Edward Elgar
(The electrical 1927 recording)
EMI British Composers CDM67297 57m DDD

…'I hope and believe, that these His Master's Voice records of Elgar's Second Symphony will do more to bring him into his kingdom than the all too few performances of the work in the concert room have yet done' - Ernest Newman in an accompanying note to the first issue of this recording, 1927.
Of course, things are different now with the great Elgar Second now a staple part of our symphonic consciousness and a regular appearance in concert programmes. But when this recording came out in those far off days almost 75 years ago it must have been quite a shock to many, such a grand symphony receiving its first recording at the hands of its creator, and what a recording. I have treasured Sir Adrian Boult's wartime recording as the definitive version for many years now but when I listened to this magnificent experience, I must say that the tears flowed fast and freely, so deep does it plumb the depths of human emotion. There is a firm hand at work here, like a magic wand carving through the lofty opening statement down along the passionate slow movement and on to those final tear jerking bars of the glorious Finale, phrasing of another world. It is like the ghost of another age bringing us in close contact with a composer of the highest stature and unfurling a mantle of unhallowed love on what is to many, his signature work. The amount of detail that appears in this truly excellent remastering is astounding for its day and even if I am now used to the limited frequency ranges of pre ffrr recordings, this still is a highly listenable experience. Tempi are quite swift but the emotional nature of the music does not in any way lose poignancy, rather it is the emotional sweep of it all that makes the listener stand on the edge of his/her seat in expectant anticipation. It is indeed something special and as pages and pages of reviews and articles about this recording have espoused before, it is essential to any Elgar discography.
The supplemental rehearsal sequence if dim and unclear is another fascinating document that enables us to glimpse the fastidious and polite way Elgar rehearsed the work. It is welcome that EMI has finally reissued this sterling performance at mid price and they appear to have followed suit with the other recordings in the old Elgar Edition. I can still hear Elgar singing that tune from the Rondo, to a young listener like me, it is worth the whole price of the disc alone.
'That doesn't sound warm at all….fortissimo without any tone. Can't you get it to go: Oh-ee-dah-dum – the last quaver not starved… Now 93 for goodness sake sonorously but not fast. (Transcript from the rehearsal sequence).
Indeed a document that deserves its continuos place as an example for posterity.
Copyright © 2001, Gerald Fenech