Related Links
Recommended Links

Site News
CD Review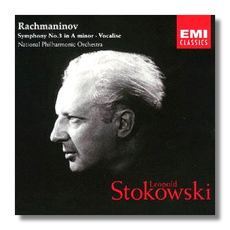 Symphony #3 in A minor, Op. 44 (1936)
Vocalise, Op. 34/14 (1915)
National Philharmonic Orchestra/Leopold Stokowski
EMI Classics 66759 ADD 46:19
The first performance of Rachmaninoff's Third Symphony took place on the evening of November 6, 1936. The orchestra was the Philadelphia Orchestra, and the conductor was Leopold Stokowski. The critics gave the work an unenthusiastic reception, and Stokowski never conducted it again… that is, not until he recorded it with London's National Philharmonic Orchestra in May 1975, almost 40 years later. He was 93 years old.
This was one of two LPs that Stokowski made for the Desmar label. (The other pairs him with the strings of the Royal Philharmonic Orchestra in Vaughan Williams' Fantasia on a Theme by Tallis, Dvořák's Serenade for Strings, and an arrangement of "When I am laid in earth" from Purcell's Dido and Aeneas – now on EMI Classics 66760.) If anything, these recordings, particularly the present one, have a red-hot excitement that many of the conductor's other discs from the 1970s can't approach. This isn't the deeply philosophical, introspective conducting of an old man, but the sensuous, passionate conducting of a young one.
The disc opens with a luxurious (7:03) rendition of the Vocalise, ostensibly the composer's own orchestration, but perhaps not completely unimproved by occasional Stokowski-isms. The symphony itself is played at a fairly traditional tempo overall, although Stokowski's tempos are extremely flexible – the fast parts tend to go faster and the slow parts tend to go slower. The NPO plays with whiplash precision, even when transitions between sections (and this is a very sectional work) are unconventionally handled. The music's brooding Russian soul is bared. Best of all, however, is this performance's spontaneity. Stokowski's gathers the symphony to his breast and loves it as if it were the prodigal son returned. There are several good recordings of this symphony on the market, but I know of none that is as mercurial and passionate as this one. Don't worry about the short playing time: this is the recording to get, even if Stokowski's conducting usually makes you skeptical.
Copyright © 1999, Raymond Tuttle