Related Links
Recommended Links

Site News
CD Review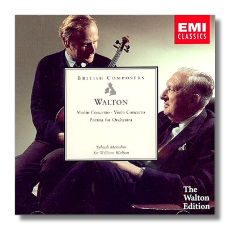 Violin Concerto
Viola Concerto
Partita for Orchestra
Yehudi Menuhin, violin & viola
Philharmonia Orchestra/William Walton
EMI 565005-2 74m ADD
More authoritative recordings from Walton and Menuhin confirms the excellent musical relationship between these two great artists.
The Violin Concerto is a palpably beautiful work full of exquisite melodies but also carrying a strong modernistic image to its apparently light colours. An expansive Andante tranquillo is played with fine majesty by the London Symphony who had a close rapport with the composer and Menuhin's sweet playing is rather suited to the proceedings. The violinist is also at home in the jolly Vivace movement which is taken at quite a hectic pace thus enhancing the exciting nature of the music.
The Viola Concerto is also successful enough although I still retain a marked preference for the classic recording with Frederick Riddle, which is still available on Dutton Laboratories. Menuhin is occasionally too detached from what is deeply expressive material although Walton's accompaniment makes up for this shortcoming. EMI has now added the trenchantly boisterous Partita for Orchestra, a delightful example of Waltonian 'joie de vivre' to these two concertos and this rounds off an immensely satisfying disc both in terms of authority and sound reproduction.
Copyright © 2001, Gerald Fenech