CD Review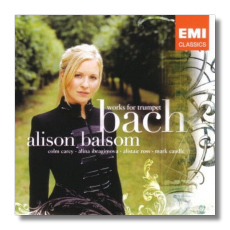 Works for Trumpet
Concerto in D Major after Vivaldi, BWV 972
Suite #2 in D minor, BWV 1008: 4th movement, Sarabande
Mass in B minor, BWV 232: Agnus Dei
Concerto in D minor after Alessandro Marcello, BWV 974
Clavierbüchlein #2 for Anna Magdalena Bach: Bist du bei mir, BWV 508
Trio Sonata #5 in C Major, BWV 529
Partita #3 in E Major, BWV 1006: 7th movement, Gigue
Aria Variata in A Major, BWV 989 "In the Italian Style"
Concerto in A Major, BWV 1055
Suite for Orchestra #2 in B minor, BWV 1067: Badinerie
Suite #2 in D minor, BWV 1008: 6th movement, Gigue
Alison Balsom, trumpets
Colm Carey, organ
Alina Ibragimova, violin
Alistair Ross, harpsichord and chamber organ
Mark Caudle, viola da gamba
EMI Classics 558047-2 DDD 71:31
Bach is not the first Baroque composer who comes to mind when one thinks of the trumpet; Telemann and Vivaldi, for example, wrote several concertos for this instrument, while Bach wrote none at all, apart from the Brandenburg Concerto #2. To title this CD "Works for Trumpet," then, is not quite accurate, because it consists entirely of arrangements. Nevertheless, Bach's music is famously adaptable, so there's no reason not to let this young trumpeter make a splash in it.
It is most interesting to hear Alison Balsom play two movements from the Cello Suite #2 (the Sarabande and the Gigue) and one from the Violin Partita #3 (the Gigue) as trumpet solos, as well as the Badinerie from the Orchestral Suite #2 – usually a vehicle for flute! They work well in this guise, although the legato playing easily achieved on a the violin or the cello is harder to carry out on a trumpet. Bist du bei mir (probably not even a work by Bach!) is predictably gorgeous as a duet for trumpet and chamber organ. The "Agnus Dei" from the Mass in B minor, played by the same combination of instruments, is a little less convincing because the trumpet can't match the comforting tones of the contralto soloist in Bach's original. The BWV 529 Trio Sonata finds the trumpet sharing the spotlight with the violin, rather than taking over completely. Another feat is to have trumpet and harpsichord take the place of a solo harpsichord in the Aria variata in A minor, BWV 989, and to turn the BWV 1055 Keyboard Concerto into a chamber concerto for trumpet and organ. The two remaining works on this CD are arrangements of arrangements. Bach's BWV 972 Concerto in D is based on a concerto from Vivaldi's L'Estro Armonico, and his Concerto in C minor, BWV 972, is based on Alessandro Marcello's most famous oboe concerto. Balsom plays both of these with organ accompaniment. On the last page of the booklet, we read that the arrangements/ transcriptions are by Balsom and organist Colm Carey, with the exception of the Aria variata, which was arranged by Tim Jackson.
I just finished reviewing an EMI Classics Encore CD of Baroque music for trumpet organ – again, comprised almost entirely of arrangements. The star of that CD was Maurice André, a man in whose shadow every young trumpeter must walk. Alison Balsom needn't worry too much, though. André was more an institution than a mere musician, and everything he played tended to bear his personality, for better or for worse. Balsom's tone is tighter and darker than André's, and she excels at legato playing, while remaining within an appropriate style. She is not as "punchy" as André often can be. Given her age and her educational background – she was a pupil of Håkan Hardenberger and John Wallace – she is likely to be a versatile and stylistically informed player no matter what she does. This is an impressive CD, and while it touches no deep emotional wells, it invites the listener to stay tuned! Balsom's fellow musicians give her fine support.
Copyright © 2006, Raymond Tuttle