CD Review
John Rutter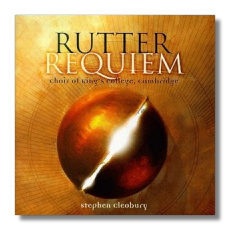 Requiem
Requiem
Veni Sancte Spiritus
What Sweeter Music
Hymn to the Creator of Light
Cantate Domino, Cantus
Te Deum
Choir of King's College, Cambridge/Stephen Cleobury
City of London Sinfonia
The Wallace Collection
EMI 56605
Have you ever been working on a review, made a couple of pages of notes, and then lost the friggin' papers? Grumble, grumble.
When I first heard Rutter's Requiem I told my wife, Susan Betz, to simply play it at my funeral and then send everyone home. That recording was the composer conducting [Collegium: 103] on a 1986 compact disc. There are currently two other recordings of the piece, aside from the composer's, listed in the summer 1998 Schwann Catalogue. I have listened to the one on Reference Recordings and it paled next to the composer's. This fourth entry to the list, however, gave me a sense of rediscovery.
If you are not familiar with the piece, it is somewhat in the vein of Fauré. The agnus dei, track five, does approach the gravity of Brahms' Requiem, and also shares the fact that it is not liturgical. As the composer writes, this requiem is also not in the tone of Berlioz or Verdi. There is a sense of peace and acceptance, saying that death is as natural as birth. The end of the first movement has a lovely melody where soprano and tenor echo one another. That is one of the differences between Rutter's recording and this one. The King's Choir is, as you probably know, all male. The interplay of the treble and tenors in this recording is just as moving and maybe more so. I'd love to hear either of the trebles singing in a recording of Mahler's 4th. (For that matter, I'd love to hear either of the sopranos in Rutter's recording do the Mahler 4th.) Another difference is the overall sound stage. As Rutter writes, "King's College Choir and the spacious acoustic of King's chapel have formed part of my interior sound landscape for almost as long as I can remember." It is certainly true that the soundscape (I just love inventing new words) of this recording is absolutely captivating. The details abound and God is in the details. The solo oboist literally takes me to another level of existence. I could go on and on, but you really owe it to yourself to hear this recording, even if you have the composer's. The two recordings are an operational definition of the fact that music is more than black marks on white paper (as Stokowski used to put it).
Oh, yeah, there is other music on this disc, too. That is just icing on the cake. This Requiem, along with Brahms' is about as religious as I ever get. Damn, now I will have to decide which version to have played at my funeral, even though I won't be there.
Copyright © 1999, Robert Stumpf II