CD Review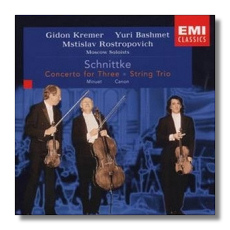 "Concerto for Three" for Violin, Viola, Cello, Piano & Strings
String Trio
Minuet for Violin, Viola & Cello
Canon "Alban Berg an das Frankfurter Opernhaus"
Gidon Kremer, violin
Yuri Bashmet, viola
Mstislav Rostropovich, cello
Moscow Soloists Ensemble
EMI CDC 55627
As cellist Mstislav Rostropovich says, "With Alfred Schnittke, it's impossible to predict what comes next." This compelling CD is typical of much of Alfred Schnittke's chamber music: ironic, unpredictable, annoying, intriguing. The String Trio, commissioned by the Alban Berg Foundation for Berg's centenary, was modified into a piano trio seven years later. Schnittke's mantra-like repetition of the Happy Birthday tune is a brilliant stroke, particularly when the tune begins to dissolve. He enhances the effect with Bergian pathos throughout the piece. Sometimes it dips briefly into a romantic wellspring, where it lingers until shattered by ominous chords. As performed by Gidon Kremer, Yuri Bashmet, and Mstislav Rostropovich, the String Trio is a dynamic piece, more appealing than its piano trio clone because of its tonal density.
Schnittke's string transcription of Berg's Canon is a dense moody composition, not particularly dramatic, but performed with delicacy and restraint. Kremer imbues the piece with a rich coloration that adds a dash of hope to this powerful dirge.
This world-premier performance of the Concerto for Three begins with a fugue-like passage, only to change character several times before its conclusion. Sometimes it is a showcase of solo passages, as the three instruments banter back and forth; other times, they wander aimlessly. Concerto for Three, despite its talented performers, is not a stirring, ironic, or even an eloquently morose piece. The showy finale is moderately amusing, although not profound. The three instruments squabble with each other until a jarring note from a piano ends it all, like a pail of water thrown on a dogfight.
The second world premier, the three-minute Minuet, is a delightful example of Schnittke's polystylism. It is unclear whom or what he is satirizing – Mozart perhaps? The minuet form itself? Whatever the case, its skewered, off-key melody creates images of drunken, late night dancers with smeared faces. It is a wonderful pastiche and, as Mozart would say, contains just as many notes as necessary.
Copyright © 1998, Peter Bates